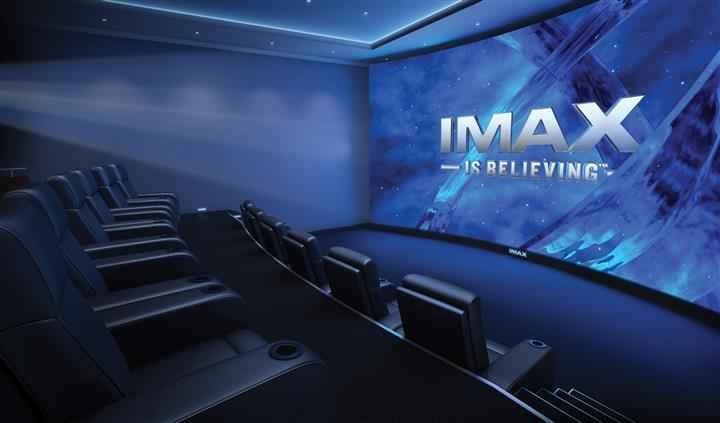 Editor's note: this article was originally published in the June/July 2014 print edition of CANADA HiFi.
Hundreds of millions of people around the world have heard the brand name IMAX.  IMAX research shows that consumers generally perceive that the IMAX brand promises a cinematic experience like no other, and conjures up powerful associations of high quality, entertaining and enriching first-person experiences for the whole family.  The IMAX Corporation has two primary lines of business – IMAX Theatre Systems and digitally re-mastering films that play in its theatres (IMAX DMR).  We'll take a detailed look at each in one of the sections below.
Many home theatre enthusiasts enjoy seeing high quality movies in the IMAX format, but is there another reason IMAX should be of interest to enthusiasts?  The fact is that most commercial technologies and standards eventually percolate down into the broader consumer market.  So, we should keep an eye on IMAX, not only for its growing contribution to high quality films, but perhaps more importantly, to see how it will impact the technologies of our own home theatre systems over time.
Although an IMAX installation is an expensive proposition, trickle down from the commercial market into the high-end consumer home market is in fact part of the IMAX future plans.  Although IMAX is not there yet, they have some exciting news to share about their recently announced IMAX Private Theatre offering.
But first, let's go back in time to understand where IMAX came from.
Are You Experienced?
While man was returning from the moon and Jimi Hendrix was reaching his zenith at Woodstock, a new approach was brewing in the movie industry.  The IMAX Experience has been around since 1970.  To date there have been over 300 movies shot "in full" using IMAX's extremely high-resolution cameras and presented at IMAX's full aspect ratio and another almost 200 mainstream "blockbuster" movies that have been re-mastered or incorporated the use of IMAX technology.  Today there are over 800 IMAX theatres around the globe.  Not bad for a Canadian start up.
IMAX is short for Image Maximum, and is a motion picture film and digital format along with a set of cinema projection, sound and theatre design standards intended to produce the most captivating and immersive audio and visual experience.  The original IMAX format and standards were developed by the IMAX Corporation, founded in Canada in 1970 by four principals:  Graeme Ferguson, Roman Kroitor, Robert Kerr, and William C. Shaw.
It all started when two of the IMAX founders, Kroitor (Producer of the film Into The Labyrinth) and Ferguson (Producer of the film Men And The Polar Regions) were exhibiting films at the World Exposition, EXPO 67 held in Montreal on Canada's 100th birthday in 1967.  Both Kroitor and Ferguson were showing films that utilized multiple projectors to produce a wide / surround visual effect.  Both men experienced difficulty in producing their movies, so they teamed up to form a company initially known as "multi-screen", which later became IMAX Corporation.
The first IMAX-produced movie was entitled Tiger Child and premiered as a demonstration at Japan Expo 70.  In 1971, the first permanent IMAX theatre was built at Ontario Place in Toronto and debuted with the groundbreaking IMAX movie North of Superior.  IMAX continued to grow with the advent of world class expositions around the globe, leading up to OMNIMAX (later renamed IMAX Dome) for an enveloping video experience and then to the first IMAX 3D theatre built in Vancouver, Canada in 1986.  Today, the US has the largest number of IMAX theatres, followed by China and Russia (and CIS).
IMAX is also now the favorite technology for leading filmmakers of Hollywood blockbuster films with the latest success of Gravity in 2013 and the remake of Godzilla in IMAX 3D in 2014.
So what are these IMAX standards, in picture format, projection approach and the related audio standards and why do they make a difference?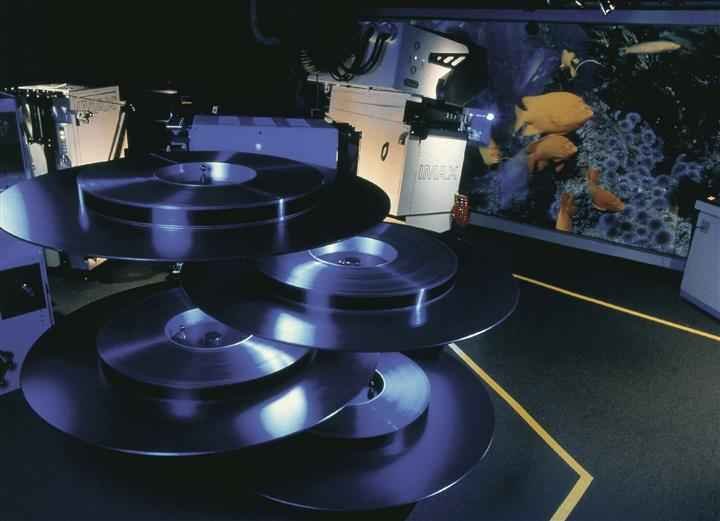 The IMAX Technology
As mentioned earlier, the IMAX mission is to provide the most immersive and entertaining cinematic experience.   This starts with providing a huge screen with bright and colourful high resolution images and seating close to the screen to enhance the immersive feeling.
IMAX screens in commercial movie theatres can reach up to 118 feet wide and 82 feet tall. The IMAX screen includes a unique compound curve unlike any other theatre screen in existence. A compound curve screen means that the screen's inward-facing curve isn't uniform; parts of the screen curve at different rates. The reason for this design is so that every seat in the house gets a great, sharply focused, uniformly bright picture, not just the "money seat". IMAX isn't about compromises.
Back in the 1970s, films were shot and presented in an analog format.  Typically most large budget films used a 35 MM size (width), and were vertically fed through the projector at a rate of 27.4 meters per minute, while IMAX uses a 70 MM wide film frame size, and is fed through the projector horizontally (easier to control for the large film size) at a rate of almost four times as fast, of 102.7 meters per minute.
In today's digital standards, 1080p HD represents a size of 1,080 vertical lines or pixels by 1,920 horizontal lines or pixels — sometimes loosely referred to as 2K for the number of horizontal lines or pixels.  A typical 35 MM film would represent approximately three times the HD horizontal resolution at 6K horizontal lines or pixels, while a 70MM IMAX film would represent a substantially larger 18K horizontal lines or pixels.  The IMAX 70MM format is almost ten times the horizontal resolution of our commonplace HD systems.
The accompanying illustration shows the difference in the picture content between 35 MM and IMAX 70 MM film.  The 35mm Academy standard also includes an audio track located between the picture and the left sprocket, while IMAX uses a separate audio track not contained on the video recording.  The IMAX audio originally used a 35 MM film containing six separate audio channels and was locked to the video system.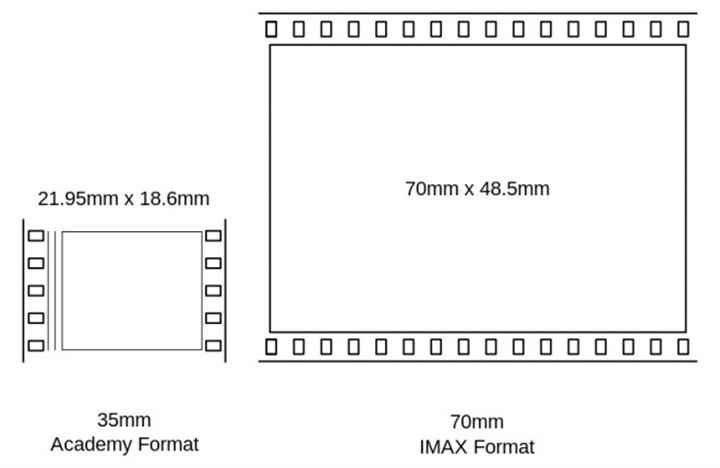 IMAX Goes Digital
In the early 1990s, IMAX began its conversion to a digital environment by first converting the audio to a six channel DTS mix that was stored on CD-ROMs and played along in lock-step with the analog video.  By the end of the decade, IMAX had adopted its own proprietary digital audio standard consisting of six embedded tracks that created a full surround sound configuration, which also included a separate speaker behind the screen at the top centre to better leverage the large screen height.
Largely due to the cost of 70MM film and projection systems, the digital incarnation of IMAX video made its debut in 2008.  The first IMAX digital video system used an IMAX specific subset of the DCI standard for 2D / 3D stereoscopic films.  The system employed two 2K projectors capable of providing a 2D or 3D 1080p picture.  The two projectors were used to ensure high luminosity (brightness) for the large screen implementations.
Some felt that this new IMAX digital implementation took a step backward with its lower resolution than the original 70MM analog film.  This was also complicated by the fact that many theatre owners were employing the new IMAX digital systems in smaller theatres that did not conform to the original purpose built large screen IMAX theatres and OMNIMAX / Dome "enveloping" configurations that followed.
Today, IMAX offers dual 2K digital projection systems, along with laser tuned 7.1 audio systems that are deployed in its newest theatres.  Several of the key historic IMAX sites are being converted to play both 70 MM analog films and the newer digital films.
IMAX has also introduced a 4K 3D digital camera system that will be used in conjunction with the 70 MM analog cameras for filming.
The Businesses of IMAX
As I mentioned at the beginning of this article, IMAX Corp is engaged in two principal businesses: IMAX Theatre Systems and IMAX DMR.
IMAX Theatre Systems involves the design and manufacture of premium theatre systems and the sale, lease or contribution of those systems to customers under theatre arrangements.  These IMAX Theatre Systems include advanced, high-resolution projectors; large screens and patented theatre geometry; sound systems; specialized theatre acoustics; and IMAX DMR (Digital Media Re-Mastering) movie conversion technology and 24/7/365 system monitoring capabilities.  All commercial IMAX Systems for world wide distribution are developed, manufactured and tested in Canada at the IMAX Mississauga facilities.  The IMAX Corporation generally does not own IMAX theatres, but licenses the use of its trademarks to exhibitors along with the sale, lease or contribution of its equipment. As of the end of 2013, there were 837 IMAX Theatres in 57 countries around the world.  These include commercial theatres, museums, science centres and destination entertainment sites.
IMAX's DMR business involves working with a wide variety of studios and film production companies to perform the Digital Media Re-Mastering (DMR) of films into the IMAX format and the exhibition of those films in the IMAX Theatre Network. IMAX has co-produced and worked with a number of smaller independent studios such as MacGillivray Freeman to create over 300 nature, science and space oriented films that are filmed entirely with IMAX cameras.  IMAX has also worked with prominent studio names such as Universal Studios, 20th Century Fox, SONY / Columbia, Warner Bros., Disney, PIXAR, Dreamworks and Paramount and leading Hollywood filmmakers to either film portions of their movies using IMAX cameras or to remaster their films into the IMAX format using IMAX's Digital Media Re-mastering (DMR) process.  Since 2002, beginning with Apollo 13, and including such big names as the Matrix Series, Avatar, Harry Potter Series, Batman Series, Transformers Series and Star Trek, IMAX has been involved with almost 200 blockbuster films.  This trend is continuing with a number of films utilizing IMAX technologies and scheduled launches in the worldwide IMAX theatre network well into 2015.
No large budget mainstream film has ever been filmed using 100% IMAX technology because of the cost of the cameras and the film stock needed.  To date the most ambitious use of IMAX technology on a Hollywood blockbuster was The Dark Night Rises, with 72 minutes of IMAX shots, while the remainder of the 165 minute movie was shot in 35 MM.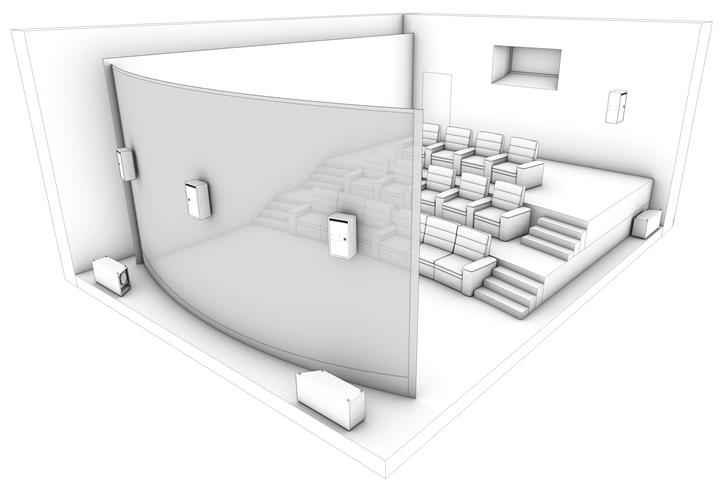 The Next Big Thing … IMAX Private Theatre
IMAX has recognized that as audio and video technologies have advanced, people are looking to spend more time in the convenience of their home to enjoy music, movies and other media. To this end, IMAX has launched their new "line of business" called the IMAX Private Theatre. IMAX has exacting standards that must be met in order to be approved to install the system, including specifications on room size, acoustical treatment, light-levels, projection booth space, theatre geometry, and power supply. For example, for an IMAX Private Theatre that sits 14 viewers, a custom room is required with the dimensions of roughly 15'6" high, 26'6" wide and 35'6" deep, plus a projection room (8' high x 14' wide x 10' deep).  A large private theatre requires even more space.  Based on these sizes and the price tag of approximately $2.25 Million, it is clear that the IMAX Private Theatre is targeted at the ultra-rich.  The IMAX slogan for the Private Theatre is "Everyone Has Experienced It, Few Will Own It."
Although we all drool over the latest Ferrari or Bugatti, while recognizing that we will probably never own one, it is still fun to dream about it.  At this time, the IMAX Private Theatre is another one of those grand dreams.
The IMAX Private Theatre uses the same technology that the company uses in commercial multiplexes: a curved floor-to-ceiling, wall-to-wall screen; a high-resolution, dual-projection system that can handle 2-D and 3-D formats; and an audio system with laser-aligned loudspeakers and microphones that perform daily calibrations to ensure perfect sound. It is modeled after the private and relatively small screening room IMAX built in Santa Monica, California, for filmmakers to see their movies in the format before the public release.
IMAX recently signed an agreement with startup Prima Cinema to make select first-run films in the IMAX format available to customers on the same day they come out. Prima delivers first-run studio movies to private screening rooms for about $500 each. The Prima Cinema system costs approximately $35,000.
The IMAX Private Theatre is designed as a complete system, rather than a number of disparate components assembled in a room as is often the case with many home theatre systems. Every aspect of the IMAX Private Theatre – from IMAX's renowned projection and sound technology to the room acoustics and theatre geometry – work as a fully integrated solution that IMAX optimizes specifically for your home.
There are a number of pieces that make the IMAX Private Theatre the most immersive movie experience in the world.  Let's take a closer look at the combination of proprietary technologies and custom architecture that are unique to IMAX.
First, IMAX creates the optimal viewing environment by engineering the room's shape and seating placement to fully exploit the features of the legendary IMAX screen, which is curved and spans from floor to ceiling and wall to wall.  The result is a full panoramic view that fills your peripheral vision more than any other cinematic experience, giving you the feeling that you are part of the action.
Specific sound isolation requirements must be met before the components can be installed.  This ensures that not only will you not hear outside sounds interfering with the movie experience, but very little sound will escape the theatre to disrupt others outside the space.
IMAX uses a proprietary, state of the art dual 4K projection system that delivers crystal clear, high lumen / high contrast images to create a visual experience so real in either 2D or 3D, it will take your breath away.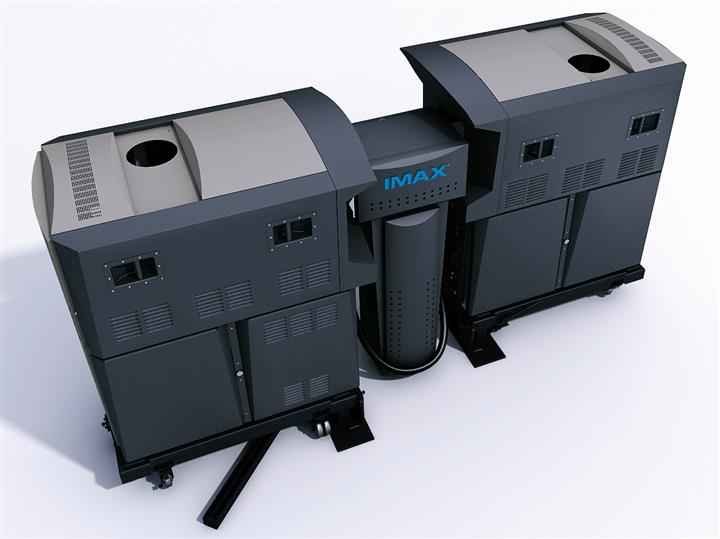 There are two projectors at the heart of the system, each roughly being 4′ high x 4′ wide x 2′ deep and weighing 1200 pounds each. The projectors face each other and their light output is collimated with a specially-designed, patent-pending mirror rig which sits between the projectors. Each projector has a 4K resolution (also known as Ultra HD, which is 4x the resolution area of the current high-definition 1080p format). Both projectors run simultaneously for 3D viewing, projecting both left eye and right eye images, and for 2D material, the system will alternate use of one projector at a time.
Then there is the IMAX surround sound system which features seven laser-aligned loudspeakers, plus a subwoofer, that deliver the ultimate in power, dynamic range and precision for a truly visceral experience you can feel.  The IMAX Private Theatre also uses a proprietary microphone system that collects data from each individual audio channel and performs daily tuning calibrations, correcting the response of the channel, so the sound you hear is always perfectly tuned.
To learn more about the IMAX Private Theatre, please check out www.IMAXPrivateTheatre.com.
What Else Is New At IMAX
IMAX has also recently announced a new partnership.  It's now forming a 50-50 joint venture with TCL Multimedia Technology Holdings Ltd. (China).  The companies say the new integrated home theatre system will incorporate IMAX projection and sound technology and will launch in China and other markets in 2015.
The brand extension of IMAX into the home theatre arena is also the first step in research and development efforts to see where else the company's technology can work.  Richard Gelfond (IMAX CEO) cites computer displays and other personal devices as areas of interest. Forget about an IMAX television, even if it were to cost as much as a house. "We'll never put the IMAX name on something unless it's up to IMAX standards," says Gelfond, a former investment banker who bought the company with a partner in 1994. "Can we evolve the technology in a more affordable context? I think eventually, we will."
Comments are closed.