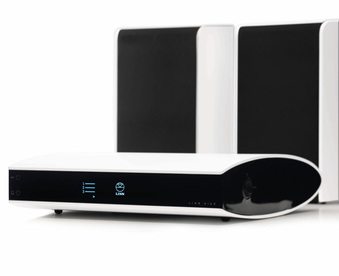 Kiko is the latest music system from Linn. The Kiko has been designed to offer great sound in a sleek and stylish package that meets the needs of modern music enthusiasts.
Kiko is a network music player that plays digital content and allows for control through the use of a smartphone, tablet or laptop. The Kiko System consists of the Kiko DSM Internet-ready integrated amplifier and the Kiko two-way speakers.
With a broadband home network, Kiko can be added, allowing for wireless control of your entire music collection. Supported file types include FLAC, Apple Lossless, WAV, MP3, WMA, AIFF, AAC and OGG plus is UPnP Media compatible.
Linn's Kiko has a back panel filled with inputs including analog via RCA, three HDMI, S/PDIF and optical TosLink. Outputs include HDMI on the rear panel with an auxiliary input and headphone output jack on the front panel.
The Kiko speakers are a two-way Aktiv, with each channel receiving its amplification from the Kiko main unit.
The Linn Kiko has a modern and stylish design and comes in six different colors including White, Light Blue, Silver, Champagne, Dark Blue and Black.
The unit can be positioned horizontally or vertically, with the option of wall-mounting the speakers. Kiko dimensions are 2.95″ x 11.02″ x 10.63 " (HxWxD) and it weighs 5.3 lbs. The Kiko speaker dimensions are 10.23″ x 5.75″ x 7.35″ (WxHxD) and weigh 6.8 lbs.
Linn's new Kiko is currently available and priced at $3,990 U.S. or £2500 U.K. Look for more details at: www.linn.co.uk.