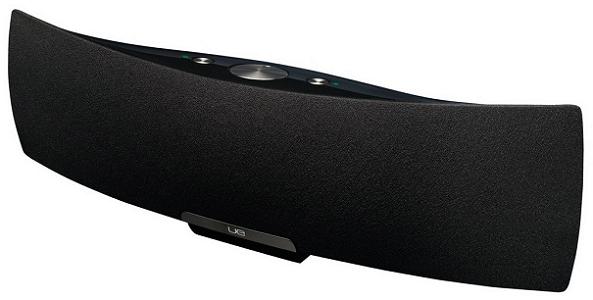 Logitech has just announced their new Logitech UE Air Speaker with Apple's AirPlay. The UE Air Speaker allows uncompressed music to be streamed to it from iTunes or an iPhone, iPad or iPod touch connected to your home's Wi-Fi network. The UE speaker incorporates dual tweeters and woofers.
Combining Logitech's experience in home audio with its Ultimate Ears heritage of delivering great quality sound directly into music lovers' ears, the new Logitech UE Air Speaker offers functionality in a stylish design. The Logitech UE Air Speaker's aesthetic attributes include subtle curves and a handsome piano-black finish.
Setup is easy: just dock your iPad, iPhone, or iPod touch, follow the on-screen instructions to download the Logitech UE Air app, enter your Wi-Fi network password and you're ready to go. After that one time setup process, any iPhone 4s, iPhone4, iPhone 3GS, iPod touch (2nd, 3rd or 4th generation), iPad, iPad 2, or iPad (3rd generation) with iOS 4.2 or later, or any Mac or PC on your network with iTunes 10.1 or later is instantly connected. Plus with the Apple Dock Connector, you can charge your iPad, iPhone or iPod touch while you play music.
The Logitech UE Air Speaker is expected to be available in April 2012 at a MSRP of $399.99 U.S. Look for more details at: www.logitech.com.