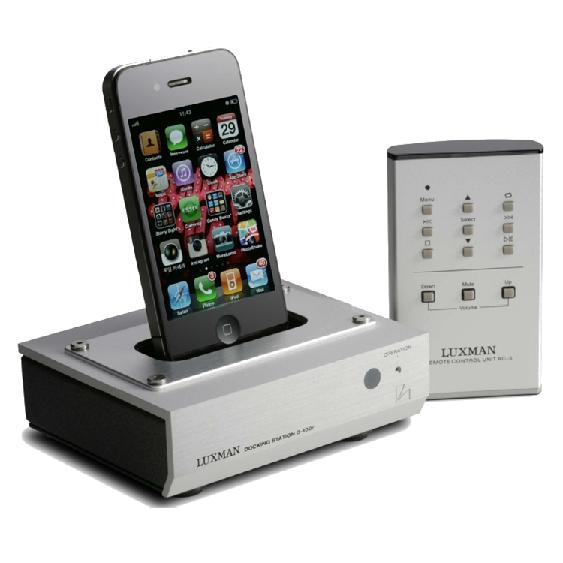 Luxman will soon ship their new iPod dock – the D-100R, which does things a little differently than the competition. Unlike other docking stations, which either tap the iPods analogue output (resulting in poor fidelity) or tap into and pass-through the iPod digital stream (higher fidelity), the D-100R incorporates an internal digital-audio-converter (DAC) that is optimized for iPods. The D-100R, suing the DAC converts the digital iPod stream to analogues and then outputs this analogue signal exclusively. The analogue RCA output allows for easy hook-up to a wide variety of pre-amplifiers and amplifiers. Luxman's included remote overrides all the iPod's native control functions but provides for complete on-screen navigation. A 100-240V AC power pack is included for worldwide operation.
Features include:
Single connection to the Luxman SQ-N10 using an accompanying dock link cable
Plays audio from an iPod through your Luxman amplifier as well as charges the iPod via the dock link cable provided.
Fully controllable from the SQ-N10 via the supplied dock link cable
Controls your iPod using the Luxman remote handset, which overrides all remote control functions of the iPod.
Easy track selection with on-screen navigation
Supports the following: iPod Nano, iPod Classic, iPhone and iPod Touch – all models
Full function remote control and 100~240V AC power pack included
The Luxman D-100R is currently available for pre-order, with shipping expected this September. The MSRP is: $495 U.S.
Look for more information at: http://luxman.co.jp/global