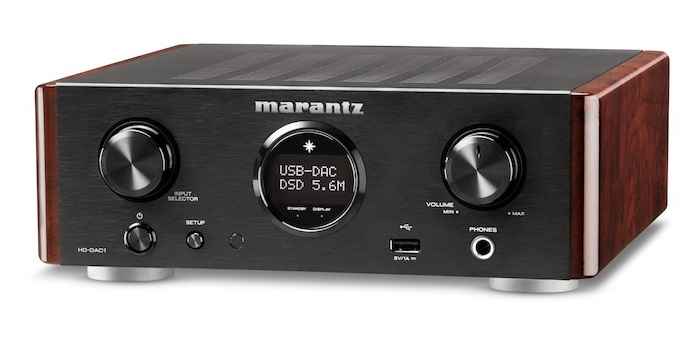 Marantz has just introduced their first ever headphone amplifier, the HD-DAC1.  Leveraging amplification technologies from Marantz's high-end Premium 11 Series, the new HD-DAC1 had been developed to provide exceptional sound quality.  Though carrying a Marantz family resemblance, the new HD-DAC1 brings a new design with a retro flair.  
The headphone outputs of some devices such as computers and portable players are not designed to get the best out of headphones, as they have low-grade amplifcation circuits and low-quality integrated DACs.  The new HD-DAC1 is poised to solve these problems by providing amplifcation and an integrated DAC that are of premium quality.
The HD-DAC1 is so powerful, it can even drive audiophile high-impedance headphones of up to 600 ohm – with complete MODE ease.  All thanks to its three-level gain control, Marantz HDAM-SA2 modules, a high current audiophile DAC (CS4398), and its Premium Quality fixed and variable RCA outputs.  In fact, the HD-DAC1 can be used as preamplifer to drive a power amplifier or active speakers.  Connectivity abounds with S/PDIF optical and coaxial digital inputs, and a USB-B port for connection of a PC or MAC.  iDevices can also be connected via the USB port on the front. The USB-B port is an asynchronous, 192 kHz/24-bit high-resolution input that also has DSD 2.8MHz and 5.6MHz ability, for maximized performance.  Marantz has incorporated extended isolation around the USB-B input to eliminate the chance of any high frequency noise generated by the computer entering the HD-DAC1.  In addition there is jitter is not a problem with a Dual Clock. 
Main features, include the following:
·      High quality Headphone amplifier with DAC Mode
·      2x optical, coaxial and USB type B digital inputs capable of 192kHz/24bit
·      Native DSD2.8 and 5.6 support
·      Asynchronous mode
·      High quality D/A converter CS4398
·      Jitter remover
·      Dual Clock
·      Noise isolation for all digital inputs (USB-A, Optical, Coaxial, USB-B)
·      HDAM & HDAM-SA2
·      Gain control to support wide range of headphones
·      Fix and variable RCA output
·      iDevice capable front USB input
·      Gold plated fix level and variable level RCA output terminals
A solid aluminum front plate is supported by a double layer bottom plate and side panels that have a retro-style wooden look.  The Marantz HD-DAC1 is expected to be available in black beginning in October 2014 at a MSRP of $799 U.S.  Look for more details at: http://www.marantz.com/.
Comments are closed.