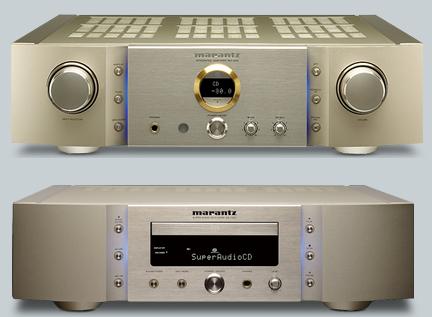 Marantz America, has just released two new state-of-the-art Reference Series components, the PM-15S2 Limited Integrated Amplifier and the SA-15S2 Limited Super Audio CD/CD Player.
Both new components feature a new design, with seamless, solid construction and no visible screw heads. The components are claimed to utilize advanced technologies, unique engineering and features found in Marantz top-of-the-line flagship models but now offered at new introductory prices.
The Marantz PM-15S2 is designed from the ground up to deliver a powerful, rich and luxurious music listening experience. It features a host of innovative design attributes, some first introduced in Marantz' award-winning MA-9S2 monoblock amplifier. The unit features a Marantz engineered HDAM-SA3 module for high slew rate, with low noise and a highly resolved sonic character. The custom-wound torrodial power transformer anchors a high current, regulated power supply newly tuned for quick response, and twin 20,000 micofarad filter capacitors custom made for Marantz provide huge current reserves for enhanced bass control. The PM-15S2 delivers 90 watts per channel into 8 ohms, with DC servo for superior low frequency response.
The PM-15S2 features a high performance moving magnet phono stage and digitally controlled analog volume stage, which boosts channel accuracy to within .5 dB. In addition, the unit's HDAM-SA2 modules are deployed in a buffer configuration at the CD input for enhanced linearity. A special B-mode setting makes it possible to operate two PM-15S2 amps and mono-integrated amplifiers for total left-right channel isolation while a power amp direct input allows for compete integration with a home theater processor at the touch of a button.
The SA-15S2 Limited Super Audio CD/CD Player features a Marantz custom SACDM 10-disc mechanism and is capable of playing CDs, CD-Rs, CR-RWs, and stereo SACDs. The audiophile-grade components have been re-voiced for greater speed and harmonic balance, and the Marantz designed linear power supply anchors an outsized torroidal transformer to provide the voltage stability and freedom from noise necessary for best audio performance. The advanced transport mechanism employs resonance-resistant composite Xyron and is mounted to a heavyweight aluminum billet base for virtually vibration free response. Additionally, the SA-15S2 boasts a superb Cirrus Logic CS4398 high-current DAC with 24-bit/192 kHz resolution for music reproduction with the speed and immediacy of a live performance. Selectable interpolation filters allow for a slight tailoring of the response to suit individual systems, while an optical input allows for the use of external digital sources.
Special audiophile grade decoupling capacitors help deliver crisp, clean power to the all-important DAC stages for enhanced audio transparency and a noise-free background, while HDAM SA2 modules are utilized throughout the analog output stage for wide dynamic range and the best possible fidelity. Finally, audiophile-grade foil film capacitors and metallic film resistors are employed at critical points in the topology to further enhance performance.
The PM-15S2 Limited Integrated Amplifier has a MSRP of: $2,499.99 U.S. and the SA-15S2 Limited Super Audio CD/CD Player has a MSRP of: $1,999.99 U.S.
Look for more details at: www.marantz.com