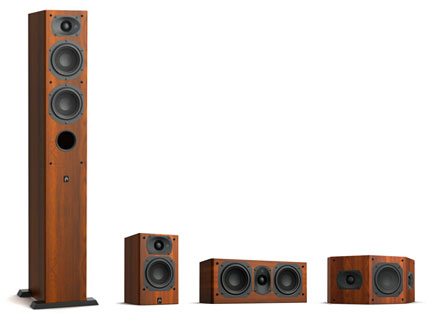 Aperion Audio, a direct-to-consumer maker of home theater speaker systems, has just unveiled the new Aperion Intimus line of home theater speakers. The revamped Intimus continues Aperion's signature sound, but increases the value with a price drop of up to 20 percent across the line.
To give the Intimus towers a sleeker overall look, Aperion Audio replaced the wooden base with cast aluminum feet. The cabinets are now wrapped in a premium-grade simulated wood finish. An increase in efficiency lets the new speakers achieve the same volume with less power. These small adjustments enable a minimum price drop of 15 percent across the entire Intimus line and a slight boost in performance as well.
Home entertainment enthusiasts can configure an audiophile-grade 5.1 home theater system for under $1,200 by combining a pair of Intimus 4T tower speakers, an Intimus 4C center channel and a pair of Intimus 4B satellite speakers for surrounds, and then underpinning the system with an Aperion Bravus 8A subwoofer. The Intimus 4T tower saves space with an 8-inch-by-8-inch footprint but includes dual 4" woven-fiberglass woofers and a 1" silk-dome tweeter in a front-ported enclosure. All Aperion Intimus speaker cabinets feature a curved-edge design and are available in high-quality simulated Medium Cherry or Black Ash.
Key Features of the Aperion Intimus Tower:
• Dual 4" woven-fiberglass mid-woofers
• 1" custom-designed silk-dome tweeter
• Curved-edge design aesthetic and small footprint
• Anti-resonant cabinet
• Premium-quality simulated wood finish
Specifications of the Aperion Intimus 4T Tower:
• Frequency response: (+/- 3 dB) 60-20,000 Hz; (+/- 6 dB) 50-22,000 Hz
• Nominal impedance: 6 ohms
• Sensitivity: 88 dB
• Recommended power: 25-150 watts
• Driver configuration: 2-way
• Dimensions: 34 inches high by 5 inches wide by 7.5 inches deep
• Weight: 19 pounds

Pricing, Availability and Warranty:
Pricing for the new Aperion Intimus line of home theater speakers is $550 per pair for the Intimus 4T Tower; $130 for the Intimus 4C Center; and $220 per pair for the Intimus 4B Satellite. The 5-year limited warranty covers all defects in material and workmanship.
All Aperion Intimus speaker products also include:
• Risk-Free 30-Day In-Home Audition
• Free shipping
• Free lifetime customer support
• Free speaker care kit
For more information please visit www.aperionaudio.com.