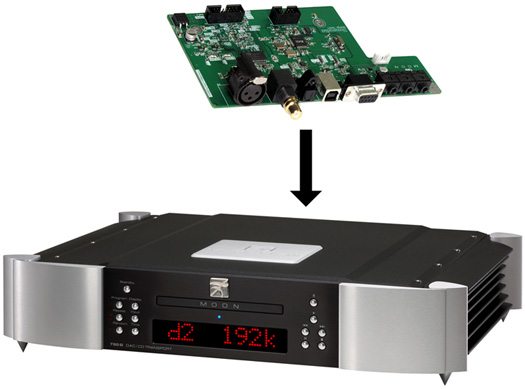 Simaudio's MOON high-resolution USB interface is designed using a new digital input board using the highly regarded XMOS XS1 microprocessor as an input receiver, allowing for fully asynchronous data communication. All MOON 650D's and 750D's manufactured from this point forward will be equipped this High-Resolution USB interface. For units manufactured prior to November 2011, a straightforward in-the-field upgrade path can be performed by an authorized MOON retailer or distributor; This entails a simple PCB swap which requires no soldering or firmware updates – the new board uses all existing mounting hardware and connectors.
Besides the increased bit-depth and sampling rate for USB data input, several design enhancements have led to an overall improvement in the sonic performance of the S/PDIF, AES/EBU and optical digital inputs. Effective immediately, MOON Evolution Series 650D and 750D DAC/CD Transports will now accept data streams up to, and including, 24-bit/192kHz on all digital inputs.
Significant Design Features:
• USB 2.0 audio interface using the XMOS XS1-L1 event driven microprocessor for bit perfect audio data up to 24-bit/192kHz with fully asynchronous clocking to help achieve virtually non-existent jitter
• Supports sampling rates of 44.1, 48.0, 88.2, 96, 176.4 and 192kHz with bit depths from 16 to 24
• Simple in-the-field upgrade path for MOON 650D's and 750D's manufactured prior to November 2011
• Native support for MAC OS-X and Linux based computers (no device driver requried)
• Easy to install Thesycon driver available at simaudio.com for Windows 7, Vista & XP based computers.
The MOON 750D with High-Resolution USB will have an MSRP $13,000.00 USD. The MOON 650D with High-Resolution USB will have an MSRP $9,000.00 USD. Existing MOON 650D's & 750D's can be upgraded to High-Resolution USB for $1,000.00 USD
For more info, please visit www.simaudio.com.