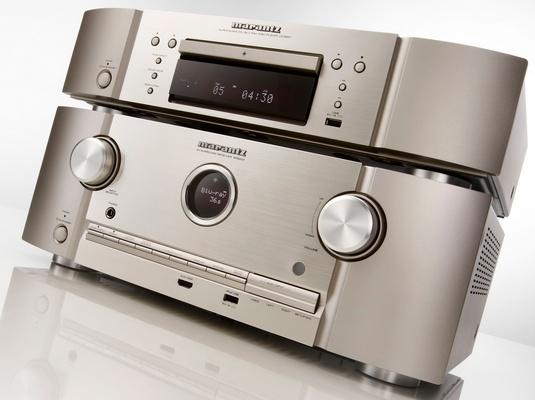 Marantz has just announced two new products – their SR5007 Networked Receiver and the UD5007 Networking Universal Disc Player.
The Marantz SR5007 is a 7.2 channel receiver that carries Marantz' signature circular display and a number of networking features that allow for audio streaming from PC and Android, Internet radio, online services, and AirPlay from Apple iDevices. With six HDMI inputs, the SR5007 is set to be the hub for a digital audio/video setup, including 3D and 4K capabilities. To improve the playback sound quality of compressed files such as MP3, the SR5007 offers M-DAX2 – Marantz Dynamic Expander version2. For additional connectivity there is also an optional Bluetooth Receiver RX101. Other helpful features are: a Setup Assistant; "auto room calibration" with Audyssey MultiEQ XT; Dynamic Volume Control; "Multi- Room" multi-source flexibility; and "video-off" mode. It also has the specially developed Marantz Remote App for iPhone.
Second up is the new Marantz UD5007 Networking Universal Disc Player which can not only play multi-format optical disc based media but also has the ability to act as a digital stream from a home network and from the Internet, including YouTube and video on demand Netflix. At the core of the UD5007 is an advanced disc mechanism which has been newly designed for fast, whisper-quiet performance. Both HDMI and RCA analog connections are supported, while 24-bit/192kHz audio decoders and custom analogue output stages deliver audio.
Both products will be available in black and silver-gold finishes, beginning this July 2012 in the U.K. at the following MSRP: SR5007 is £700 and the UD5007 is £500.  North American availability and pricing are yet to be announced.
Look for more details to come at: www.ca.marantz.com.