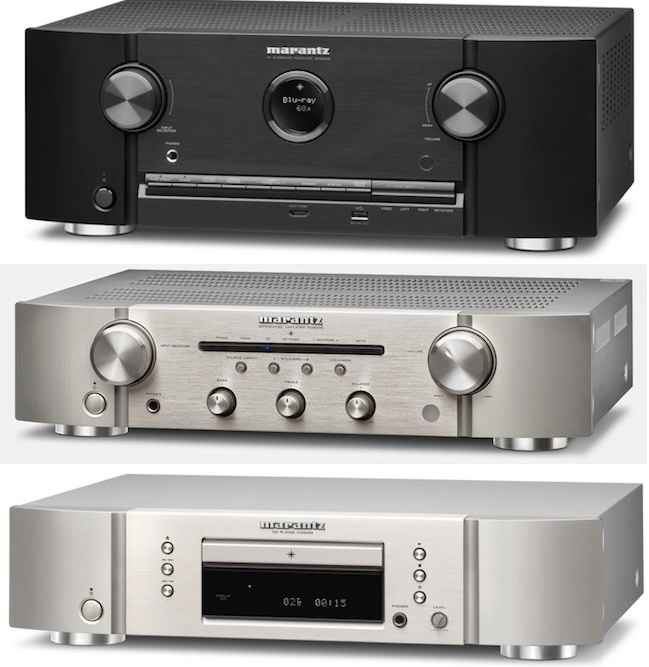 Marantz has just announced three new components: their new SR5009 Network AV Receiver; their new entry-level PM5005 integrated amplifier and their new CD5005 CD Player.   
SR5009 Network AV Receiver:
The SR5009 offers full audio streaming capabilities thanks to the built-in digital media player, which can decode music files stored on a PC or external storage unit streamed via the network, including MP3, WMA, FLAC HD, ALAC, WAV192/24 & AAC. Gapless, DSD, and AIFF. 
The SR5009 incorporates a discrete 7-channel amplifier with 180 Watts-per-channel, with their latest current feedback topology and HDAMs to ensure power and detail.  The SR5009 can be easily configured for multi-room listening with a second pair of speakers, using two of the amplifier channel outputs – this means 5.1 channel surround sound in the main room with a different stereo source playing in a second location, simultaneously.
The SR5009 has eight HDMI inputs and two outputs.  It is both 3D and even 4k 50/60Hz UHD resolution ready. Even more, the receiver features high-quality video processing technology to upscale standard of high definition video to Full HD 1080p and even 4k 24/25/30 Hz for ultimate future-readiness.
Marantz smart ECO mode that reduces power consumption significantly when used for background listening or running on lower levels without any negative impact to the audio quality and will automatically switch to full output when the volume setting demands.  The smart ECO mode has three settings: Auto, On and Off.
Convenience features includes: Setup Assistant, auto calibration with advanced Audyssey MultiEQ XT room correction; four Smart Select buttons, Multi-Room with multi-source flexibility; and "video-off" mode to ensure that you enjoy your music and movies in true dynamic Marantz style. It also has the specially developed Marantz Remote App for smartphone and tablet.
The Marantz SR5009 is expected to be available in August at a MSRP of $899 U.S.
PM5005 Integrated Amplifier:
Marantz has just introduced a new PM5005 entry-level integrated amplifier.  It is the first in its class to offer current feedback architecture – generally used in more expensive models.  This technology provides fast and accurate signal handling for a well-balanced stereo soundstage.   The PM5005 has been optimized with discrete audio circuitry and fine-tuning components. A new elegant knob design graces it's posterior, while a new remote and a new low-power stand-by and auto stand-by mode add to the feature list.  The PM5005 offers 55 watts per channel into 4 ohm, and includes a metal chassis and a front metal panel to ensure a very rigid and solid base.  It also has an integrated phono-stage (MM) and Source Direct functionality to ensure shortest signal paths.
Marantz PM5005 integrated amplifier will be available July 2014 for $499 U.S.
CD5005 CD Player:
The new CD5005 CD player builds on the CD5004 and now offers Marantz-own HDAM-SA2, an upgraded DAC CS4398 and new CD mechanism.  The CD5005 plays CD, CD-R and CD-RW discs as well as MP3 and WMA files. An upgraded remote controller as well as low power stand-by and auto stand-by modes are now incorporated. In addition, high-grade gold-plated analogue outputs guarantee best connectivity, while a well-defined headphone output, and an easy to read display rounds off this excellent player.
Marantz CD5005 CD player will be available July 2014 for $399 U.S.
Look for more information on all these Marantz products at: http://www.marantz.com
Comments are closed.