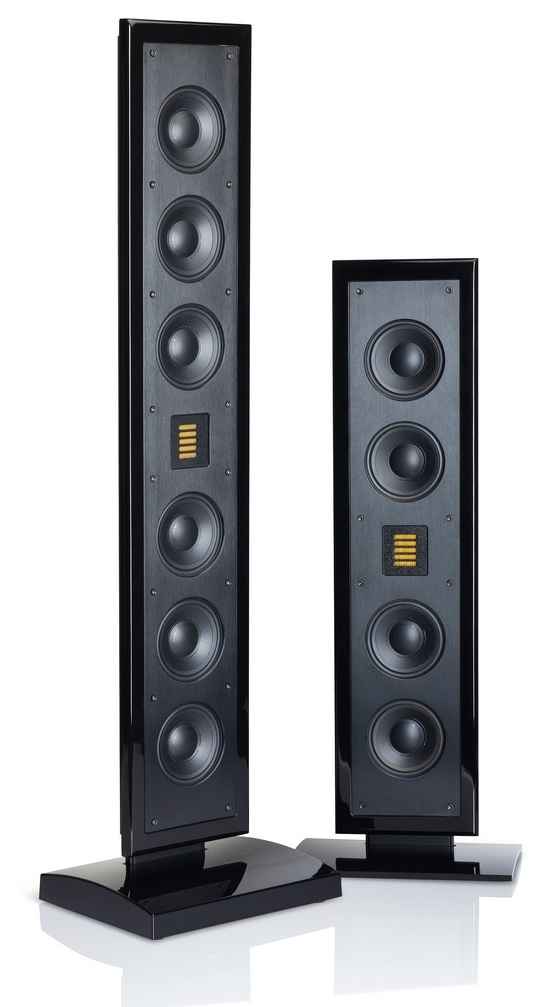 MartinLogan has just announced a new entrant to their Motion Series line – the Motion SLM XL, which is a larger version of the original Motion SLM.  The new Motion SLM XL features dual four-inch, ultra-slim fiber cone woofers and quad four-inch high-velocity passive bass radiators, paired with a Folded Motion tweeter – all within an ultra-slim profile.
The new SLM XL is the perfect complement for 65-inch class and larger sized TVs.  The dual ultra-slim fiber cone woofers and quad high-velocity passive bass radiators are used to provide maximum controlled low-end bass extension, while the Folded Motion tweeter is leveraged for high-frequency extension.   The high-gloss black SLM cabinet is only 1.45-inches thin and 1.89-inches with magnetic grille and included wall bracket.
The advanced resolution Folded Motion tweeter features lightning-fast transient response and a surface area eight-times that of a typical 1″ dome tweeter, for clear, highly dynamic and precise sound.
Keyhole slots on the speaker's back panel easily attach to the included wall bracket and the speaker also comes with a gloss-black base that allows it to sit vertically on a shelf or in an equipment cabinet.
The Folded Motion tweeter has an 80° x 80° dispersion pattern, which allows the Motion SLM XL to sound exactly the same in a horizontal or vertical orientation, making them ideal for Left-Center-Right (LCR) applications. Each SLM XL includes "kick-stand" brackets that attach to the back of the cabinet, allowing them to free-stand for horizontal center channel applications. Even the logo on the grille, being magnetic, can rotate to the proper orientation.
The Motion SLM XL speaker is now shipping and is available at a MSRP of $699.95 U.S. /each.  For more information on the new Motion SLM XL from MartinLogan, please visit: http://www.martinlogan.com/ultra-slim.