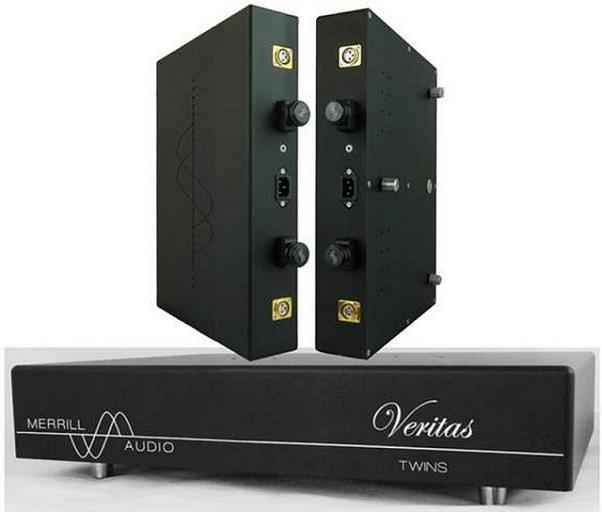 Merrill Audio has announced the release of two new Veritas amplifier models – a single chassis dual mono design, which is named the Veritas Twins as well as a pair of bridged monoblocks that they have been aptly named the Veritas Siamese Twins. Both new models are built around a Hypex Ncore NC1200.
The Veritas amplifiers begin with a solid block of billet aluminum that weighs in at 66 pounds. This billet is machines to create the internal isolation chambers and frames for the amplifier components that are set within. Aluminum walls are 1-inch think to ensure that vibration isolation and absorption are maximized, in addition to limiting outside interference.
The amplifier design features the shortest possible signal paths to ensure that wiring lengths can be optimized and ensures that speed, control, and dynamics are unhindered. In addition, expensive and labour intensive Litz wires are used within to preserve sonic purity of the signal, with all wiring done point to point and soldered.
The Veritas Twins dual mono amplifier is said to provide the same level of quality, both performance and build, as the Veritas Siamese Twins monoblocks; but within a single chassis. The single chassis limits placement options but minimizes the need for space. Like the Veritas Siamese Twins, the Veritas Twins is constructed from a single aluminum billet. Within, the Veritas Twins the left and right channels are separated to either side of the chasis; however, only one power cord feeds both channels with a single remote trigger for the dual mono stereo amplifier. The Veritas Siamese Twins monoblocks provide a bridged version of the Veritas Twins.
The Merrill Audio Veritas Twins has a MSRP of: $9,000 U.S., while the Veritas Siamese Twins are priced at $18,000 U.S. Both new models are available by special order. Look for more information at: www.merrillaudio.net.