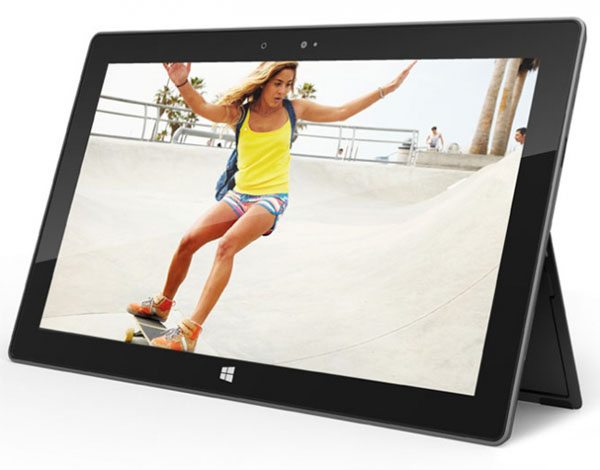 Yesterday at an event in Hollywood, Microsoft announced its entrance into the tablet market.  The company showed two Windows tablets and accessories that feature significant advances in industrial design and attention to detail. Surface is designed to seamlessly transition between consumption and creation, without compromise. It delivers the power of amazing software with Windows and the feel of premium hardware in one exciting experience.
Highlights of the new tablets include:
Surface sports a full-sized USB port and a 16:9 aspect ratio – the industry standard for HD. It has edges angled at 22 degrees, a natural position for the PC at rest or in active use, letting the hardware fade into the background and the software stand out.
The casing of Surface is created using a unique approach called VaporMg (pronounced Vapor-Mag), a combination of material selection and process to mold metal and deposit particles that creates a finish akin to a luxury watch. Starting with magnesium, parts can be molded as thin as .65 mm, thinner than the typical credit card, to create a product that is thin, light and rigid/strong.
The unique VaporMg approach also enables a built-in kickstand that lets you transition Surface from active use to passive consumption – watching a movie or even using the HD front- or rear-facing video cameras. The kickstand is there when needed, and disappears when not in use, with no extra weight or thickness.
The 3 mm Touch Cover represents a step forward in human-computer interface. Using a unique pressure-sensitive technology, Touch Cover senses keystrokes as gestures, enabling you to touch type significantly faster than with an on-screen keyboard. It will be available in a selection of vibrant colors. Touch Cover clicks into Surface via a built-in magnetic connector, forming a natural spine like you find on a book, and works as a protective cover. You can also click in a 5 mm-thin Type Cover that adds moving keys for a more traditional typing feel.
Two models of Surface will be available: one running an ARM processor featuring Windows RT, and one with a third-generation Intel Core processor featuring Windows 8 Pro. From the fast and fluid interface, to the ease of connecting you to the people, information and apps that users care about most, Surface will be a premium way to experience all that Windows has to offer. Surface for Windows RT will release with the general availability of Windows 8, and the Windows 8 Pro model will be available about 90 days later.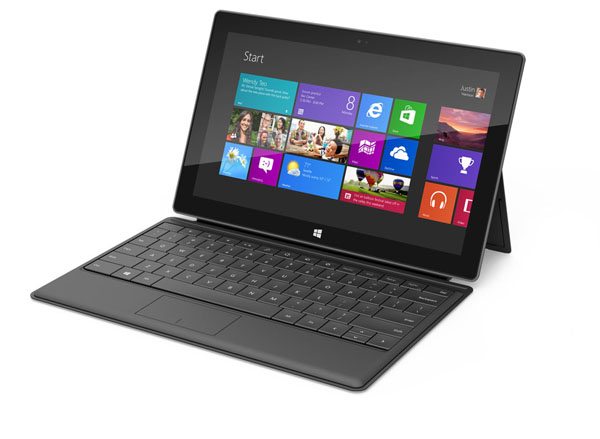 Surface for Windows RT
OS: Windows RT
Light(1): 676 g
Thin(2): 9.3 mm
Clear: 10.6" ClearType HD Display
Energized: 31.5 W-h
Connected: microSD, USB 2.0, Micro HD Video, 2×2 MIMO antennae
Productive: Office '15' Apps, Touch Cover, Type Cover
Practical: VaporMg Case & Stand
Configurable: 32 GB, 64 GB
Surface for Windows 8 Pro
OS: Windows 8 Pro
Light(1): 903 g
Thin(2): 13.5 mm
Clear: 10.6" ClearType Full HD Display
Energized: 42 W-h
Connected: microSDXC, USB 3.0, Mini DisplayPort Video, 2×2 MIMO antennae
Productive: Touch Cover, Type Cover, Pen with Palm Block
Practical: VaporMg Case & Stand
Configurable: 64 GB, 128 GB
Suggested retail pricing will be announced closer to availability and is expected to be competitive with a comparable ARM tablet or Intel Ultrabook-class PC. OEMs will have cost and feature parity on Windows 8 and Windows RT.
For more info please visit http://www.surface.com.