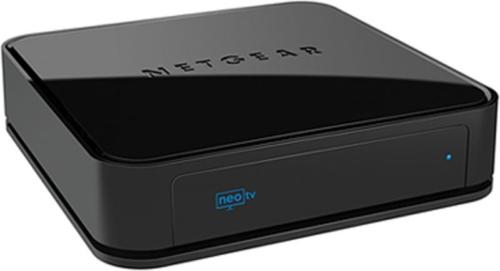 Netgear, Inc., has announced their new Netgear NeoTV ProHD Streaming Player (NTV200S). This is Netgear's latest entrant to their NeoTV streaming player family and is the professed world's first streaming player to offer wireless display capability using Intel Wireless Display (WiDi).
With the NeoTV ProHD, users can choose from streaming services like Netflix, Hulu Plus, Vudu, YouTube, Pandora and many others,and instantly stream it to their TVs in up to full 1080p HD and surround sound from the comfort of their living room. The NeoTV Pro also enables consumers to wirelessly display virtually any type of content from an Intel WiDi laptop to a TV, including sport broadcasts that are only online, movies, music, photos and any Internet site.
Netgear NeoTV ProHD easily connects to the Internet via built-in high-speed 300Mbps WiFi, which can deliver smooth streaming at1080p HD video resolution, or wired through an Ethernet cable. Navigation is simple with the NeoTV Streaming Player remote control app, which turns an Apple iPhone, iPad, iPod Touch or Android smartphone or tablet into a touch screen remote control. Available free from Apple's App Store and Google Play, the remote control app makes navigating movies, TV shows, songs and videos on NeoTV Pro simple and intuitive. For those without a smartphone, the NeoTVPro Streaming Player comes with a regular remote control.
The Netgear NeoTV ProHD Streaming Player (NTV200S) is available now at $69.99 U.S. Look for more details at: www.netgear.com.