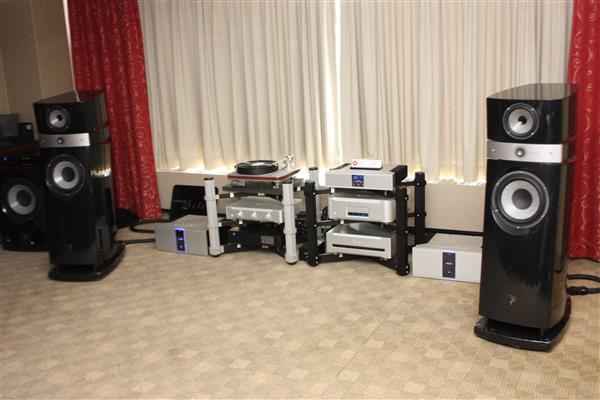 In a room occupied by Audiophile Experts, a Quebec dealer, I was happy to get my first chance to hear the Focal Utopia Scala Version II ($35,000/pair). They were being run on Linar Audio A120 double monoblock amplifiers ($9,000/each) with a Linar Audio P107 preamplifier ($9,000). Cabling was all Kimber, the power cords being PK 10 Palladium ($1,750) and PK106 6' ($500). The rest of the loom was from Kimber's flagship series – Kimber Select, including KS 6068 8' speaker cables ($22,000/pair). Accompanying this system was also a Focal Utopia Subwoofer EM ($15,000). The analog rig was all Clearaudio, with an Ovation turntable, Satisfy tonearm and Virtuoso cartridge, totaling $7,500 with an Esoteric E03 phono amplifier ($6,500) in place. The digital front end was comprised of an Esoteric K01 SACD/CD/DAC ($21,500) together with a G-ORb Rubidium Master Clock Generator ($18,000). Power conditioning was via a PS Audio P5 ($3,500). Hearing a short demo I enjoyed the sense of impact and dynamics the system was capable of producing. On the total other side of the spectrum, at least when it comes to size, Audiophile Experts was also featuring two Astell & Kern portable music player/DACs – the AK 120 DAC ($1,299) and the AK 100 DAC ($699). Both these players are very upscale looking.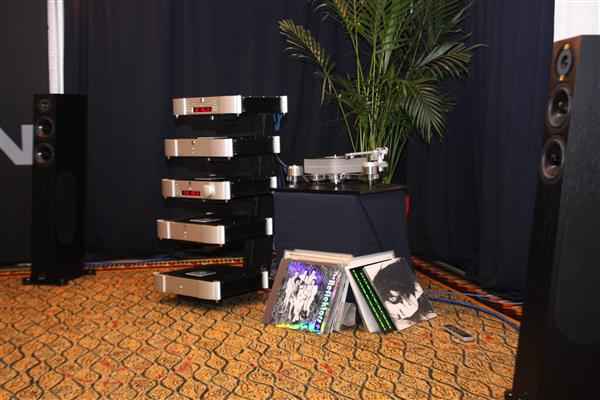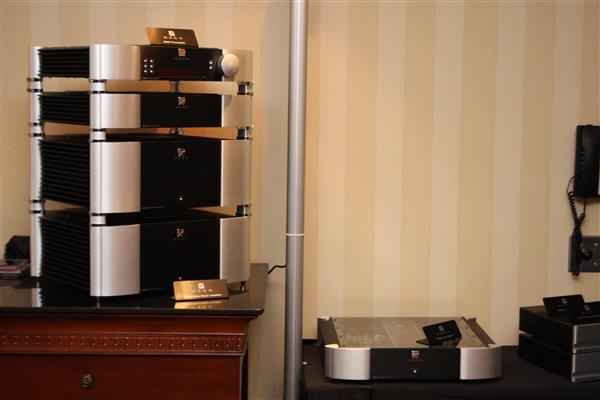 Simaudio had a bounty of product in their room, much of it on static display. The main rig was comprised of Simaudio Evolution Series components, including: a 650 D DAC/CD transport ($9,000); 810 LP reference phone preamplifier ($12,000); 820 S power supply ($8,000); 740 P line stage and a 760 A dual-mono power amplifier ($8,000). The turntable was a Clearaudio Solution with a Benz Ruby Z cartridge – with an approximate cost of $10,000. The speakers were Audio Physic Scorpio 25 (approximately $11,000) and cabling was all Cardas Clear Light. Power was fed via a Nordost QB4 power distribution block. The look of the system was impressive and undeniably high-end.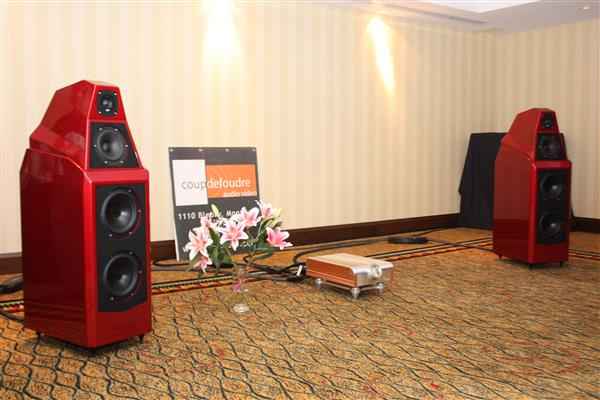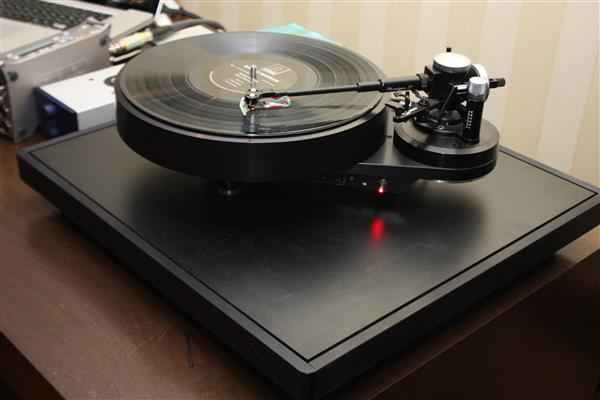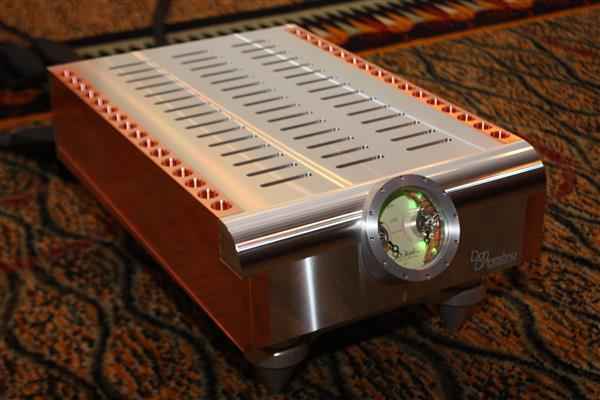 In a room hosted by Coup de Foudre, I was beckoned in by the sight of a pair of bright red Wilson Sasha Series 2 loudspeakers ($30,000/pair), being run with a Dan D'Agostino Momentum preamplier ($32,000) and amplifier ($29,000). The source was a Brinkmann Bardo turntable with an EMT-ti cartridge. All cables were Transparent Reference XL. This system sounded incredible in detail and naturalness. There was an effortless quality to the sound and I would say this was one of the best sounding rooms at the show. It seemed like Coup de Foudre had their setup near perfect for the substantial sized room. While I was visiting, the gentlemen demonstrated the time-alignment on the two-cabinet loudspeaker. There was a clear change in perceived air and high-frequency extension, depending on the adjustment, allowing tailoring of the speaker to personal preference, room acoustics and even music genre.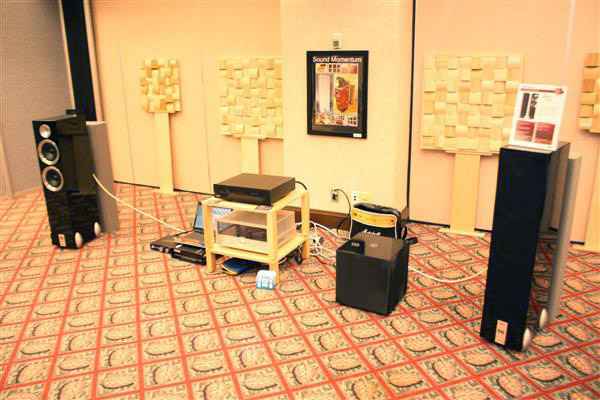 Import HiFi was aiming to please a broad audience by sub-dividing a large room into three sections, each with a system built around BC Acoustique components and loudspeakers. All three systems were shown with Sound Momentum Acoustic Wood Diffusers, starting at $460 for a 22" x 22" panel. Cabling on all systems was by Nordost but not included in the package pricing.
The first was their most modest and affordable package – named the Discovery Kit. It consisted of Act B1 bookshelf speakers ($549/pair); an EX-320 integrated amplifier ($349) and; a Plating Ex-620 CD player ($349); for a total package price of $1,247. Not shown, but advertised, were the new BC Acoustique SR B2 mini bookshelf speakers, which I was told were supposed to be at the show but got held up at the border with customs.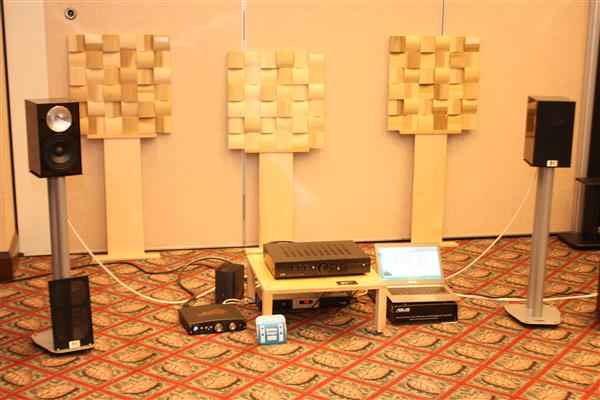 The second-level up system was their Pleasure Kit. This consisted of a BC Acoustique EX-222 integrated amp ($649) or EX-322D integrated amp with DAC ($899) or EX-888 tube integrated amp ($2,349), paired with ACT A2.1 3-way speakers ($2,298). A system in this class would range between $3,200 and $5,000.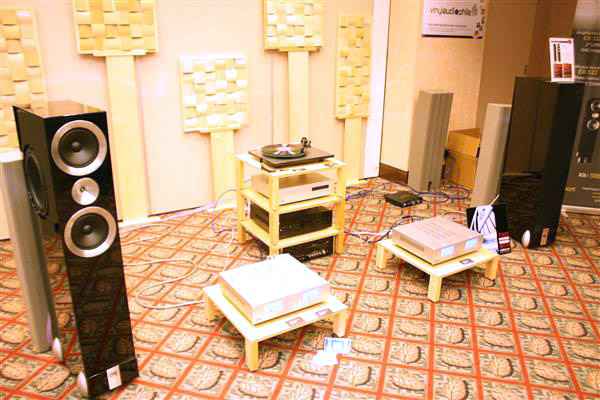 The top-tier system was their Symphony Kit, which was made up of an EX-332D integrated amp ($1,449); with EX-522 bridgeable stereo amplifiers, running in mono ($799/each); through a pair of ACT A3.5 3-way speakers ($3,500/pair). This system would range between $5,000 and $7,700.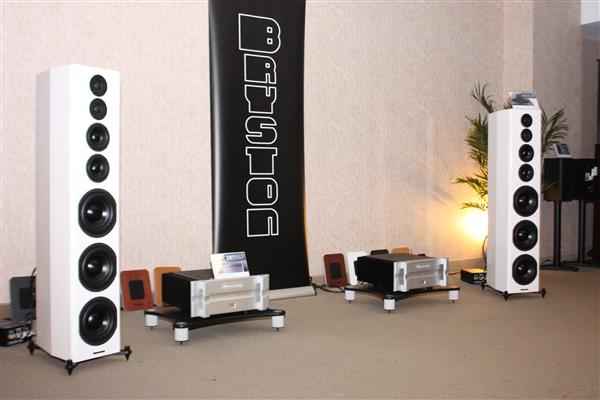 In the Bryston room, the main setup was familiar – similar to what was shown last year. The system consisted of a full set of Bryston equipment, including source player (BDP-2, $2,995), DAC (BDA-2, $2,395), preamp (BP26, $2,995 with MPS-2 power supply, $1,695), amplification (28B-SST2 x2, $9,600/each) and speakers (Model T Signature, $8,495). Talk about synergy – you could basically say that this system was made to match. The speakers were in a gloss white, a finish I hadn't seen before and presented themselves well, sitting just outside the massive flagship 28B-SST2 monoblocks, which have an amazing 1000 watts/8 ohms or 1800 watts/4 ohms output capability. The sound as always was graceful but undeniably powerful and gave the impression of unrestricted dynamics and ultra-low distortion. Within the room was basically Bryston's whole line-up of products, including their rather new A-Series loudspeakers: Mini A bookshelf ($1,200/pair); A1 ($3,490/pair); A2 ($2,790/pair); A3 ($2,390/pair). Bryston's impressive looking subwoofers were also on display, including their T SUB 3×8" driver, 600 watt sub ($4,795) and their Mini T SUB 2 x 8" driver, 600 watt sub ($3,595). The boys at Bryston seem to have it down when it comes to setup at shows.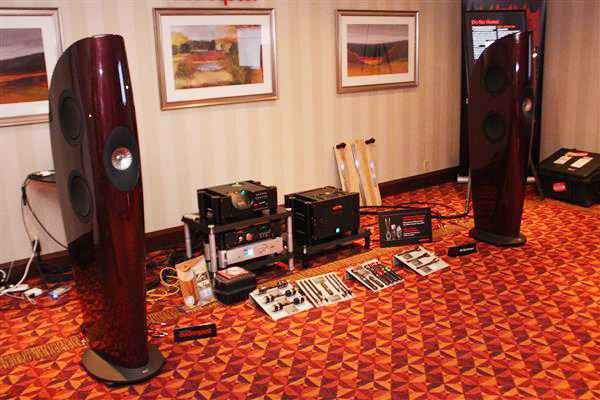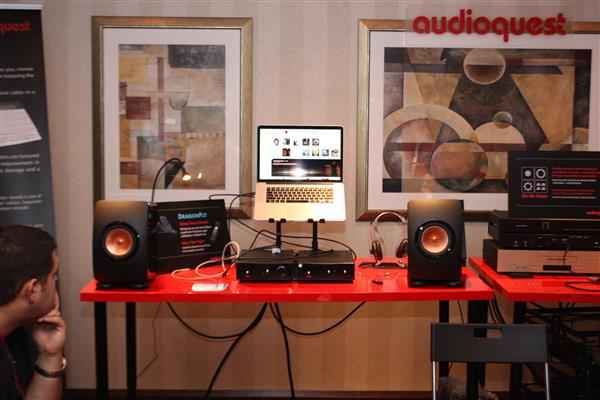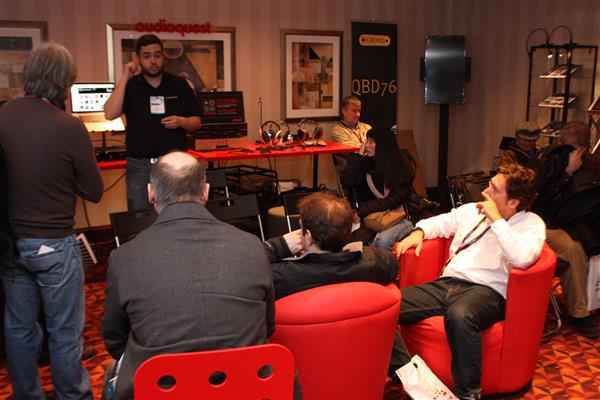 I was impressed to see AudioQuest taking a lead in a room with Audioville at the show. AudioQuest was putting on four different presentations / demonstrations throughout the day: Wel Signature & Wild Series; Boombox demo; Dragonfly & Network Audio and; Computer Audio Explained demo. I managed to catch the Computer Audio Explained demo, where the advantage of high resolution audio was clearly shown using a computer, the new AudioQuest Dragonfly v1.2 thumb DAC, a Rega Brio R integrated amp and a pair of KEF LS50 bookshelf speakers. The basics were explained in terms of file types, software and connections. The feature system in the room was comprised of KEF Blade loudspeakers (approx. $30,000/pair) with an all Chord Electronics system. The highlight in the system was the Canadian premier of the WEL Signature Series cables, including their speaker cables (8', $31,200/pair); XLR interconnects (2m, $10,400/set); power cord (6ft, $6,900). Given my timing in the room, I didn't get to hear the system, which was my loss, as I'm sure it would have been impressive, to say the least.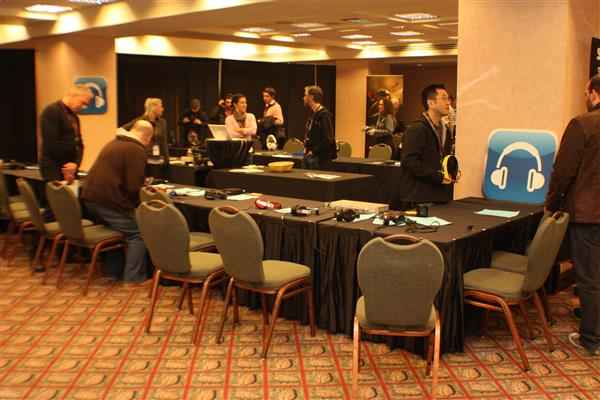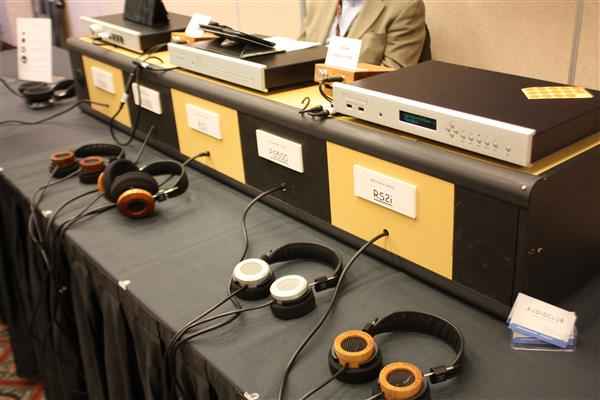 Within the Personal Audio Zone there was literally a multitude of different headphones to be seen but also auditioned, thanks the many active setups. The brands highlighted included: Shure, Grado, STAX, Sony, Bowers & Wilkins, PSB, Focal, HiFiMan and quite a few others. Prices ranged from as low as $60 to in the $1,000+. I got a chance to sit down with a couple of them, including the new Sony Hi-Res headphone models: MDR10R ($199) and MDR1R ($299). I also tried out the PSB M4U2 ($400) and the Focal Spirit Classic ($429). The room seemed to have good traffic, no doubt with the growing trend toward personal audio devices.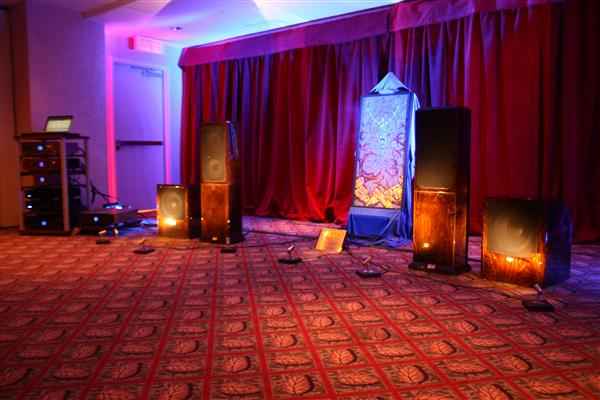 As I did last year, I visited the Sam Audio room, which was featuring Blue Circle components, playing through Le Doux loudspeakers. Like last year, the room was mood setting as well as very pleasing to the ears. Featured were the Le Doux Concerto, a new loudspeaker using 2 x 8" full-range drivers with no cross-over, finished in a gorgeous Russian cherry wood ($21,000/pair). Accompanying the speakers were a pair of 12" Le Doux Concert 12 subwoofers ($7,000/each). On the Blue Circle side of things, fed by a Macbook, were the BC505 USB 24/192 DAC ($5,875); BC 307 hybrid preamplifer ($13,500); BC 1022 power amplifier ($4,875) and BC60 power conditioner ($4,875). Cabling included Bis Audio Maestro interconnects that totaled $7,000 with Le Doux's own speaker cable ($20/ft). The sound was very pleasing to the ear, though the room was not cooperating with the soundstaging; regardless, I was happy I dropped by.
So that's it for our coverage this year. Vive la Montreal! Next stop? TAVES 2014!
To read previous parts of our SSI coverage, please click on the links below:
Part 3 – http://wp.me/p30fO1-2Lb
Part 2 – http://wp.me/p30fO1-2Ka
Part 1 – http://wp.me/p30fO1-2IO
Comments are closed.