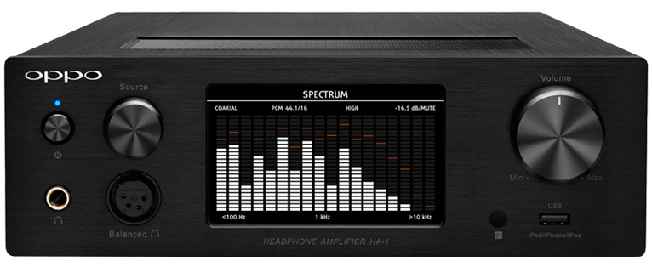 OPPO Digital has shared details on their new dedicated headphone amplifier HA-1. The OPPO HA-1 Headphone Amplifier builds on the proven circuit design of OPPO's Blu-ray players, combining a Class A balanced power amplifier section with the performance of the ESS 9018 Sabre32 Reference DAC.
The HA-1 is designed as a high performance headphone amplifier that alos serves as an asynchronous USB DAC, a stereo pre-amplifier, a digital audio dock for mobile devices, and a Bluetooth audio transport.
The analog audio section of the HA-1 is a fully balanced that focusing on preserving the purity of the audio signal within the analog domain once it leaves the DAC. Assisting in this objective is a substantial toroidal power transformer and linear power regulators, and filters with custom made capacitors that ensure that the headphone amplifier has a clean power source and more than adequate power reserves. The power amplification includes hand-picked and paired discrete components that ensure symmetry. A motor-driven precision volume control knob enables both hand adjustment and remote control. Connection of headphones is via a 4-pin balanced XLR or the traditional quarter-inch headphone jack. Line level analog inputs and outputs are provided with both RCA and balanced XLR sockets. Thre is also monitoring and protection circuitry to prevent short-circuits, overloading, and DC offset.
Digital inputs include coaxial, optical, balanced AES/EBU, and an asynchronous USB DAC for both PCM and DSD formats. OPPO also uses the same ESS 9018 Sabre32 Reference DAC and output driving stage from their Blu-ray players- ensuring extremely low noise and low distortion performance. Connectionto PC is straight forward with the USB connection abd OPPO currently working with a leading smartphone and tablet manufacturer to ensure that the HA-1 is certified compatible with popular mobile devices. For additional convenience, the Bluetooth audio transport with high quality Apt-X CODEC sets music in your mobile phones free with a performance boost.
The HA-1 is a desktop sized component, housed in an aluminum chassis, with easily accessible volume and source selection knobs that are supplemented by a customizable 4.3-inch display, which allows switching between classic VU meter, to spectrum display, or a simple informational summary. A supplied IR remote and a smartphone app via Bluetooth provide complete control and convenience.
OPPO expects that the new HA-1 will be available by mid-2014 at a soon to be announced MSRP. Product features and availability are subject to change as this product is currently still in development. Look for more information on this product and other OPPO products at: http://www.oppodigital.com/.
Comments are closed.