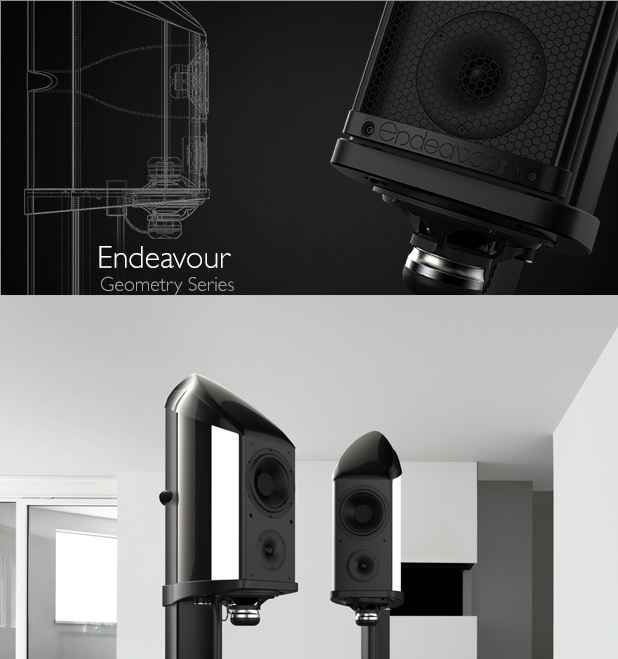 Wilson Benesch has just annouced a new entrant to their Geometry Series of loudspakers – the Endeavour Loudspeaker. The name comes from Captain Cook's British Royal Naval vessel the HMS Endeavour, while the design draws from Wilson Benesch's own flagship model – the Cardinal, the only other current Geometry Series sibling. The Endeavour features a geometrically optimised carbon composite top, alloy baffle profile, and silk black aerospace finishing.
Wilson Benesch manufactures the new Endeavor from their own facilities. The new loudspeaker utilizes a single midrange Tactic-II drive unit that sits directly above the Semisphere Tweeter. A set of Tactic-II bass drive units are mounted to the huge aluminium base on the underside of the enclosure in a Isobaric Drive arrangement.
Whilst the Endeavour is ground breaking in many respects, its crowning achievement might well lay directly behind the midrange drive unit. The Endeavour introduces the world's first Carbon-Nanotech Enclosure which houses the midrange drive unit. Born from research carried out in partnership with the Advanced Manufacturing Research Centre in Sheffield. The Carbon-Nanotech Enclosure is a huge breakthrough in high performance loudspeaker design.
The Endeavou stands 1.47-meter high, with each speaker weighing in at a substantial 100-kg. The Isobaric Drive is mounted to the enclousre via its own specially designed aluminium housing that sits in a tapered alloy base that the carbon composite monocoque and spine are affixed. Carbon fibre detailing on the A.C.T. Monocoque and sculptural top, along with carbon fibre ports to the rear and underside of the speaker.
The Endeavour loudspeaker will have its premier showing at the Munich High End 2014 show. Pre-ordering has begun, at a UK price of £25,000 in standard Black Carbon, Silk Black. Optional finishes are available for an additional £1,000, which includes gloss finishes: White Wood Gloss, Birds Eye Maple, Burr Walnut, Ebonised Walnut, Walnu, Red Tulip and Zebrano; as well as satin finishes; namely: Natural Cherry, Maple and Oak. North American pricing and availability is yet to be announced.
Look for more detailes on the Wilson Benesch, Endeavour loudspeaker to be announced at: www.wilson-benesch.com.
Comments are closed.