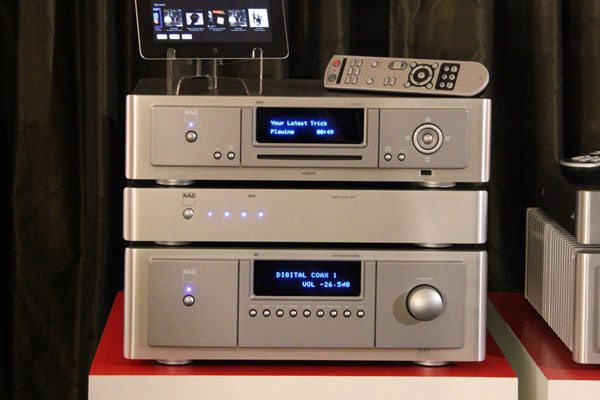 NAD announced at the just-passed CES that it will be expanding its Masters Series line-up of products with three new additions – the M50, M52 and M51 audio components.
The M50 Digital Music Player ($2,500 US, available this March) plays CDs, DVDs and digital files from external hard drives and can also rip CDs without requiring a computer.  Thanks to its built-in Wi-Fi, it can stream music from home network computers or NAS drives.  It can also play music from devices connected to its USB input. The M50 provides support for digital files including FLAC Lossless, MP3, AAC, WMA, Ogg Vorbis, and linear PCM to 192kHz/24-bit.
While the M50 does not provide on-board storage for digital files, the new M52 Digital Music Vault ($2,000 US, available this March) does and makes an ideal companion for the M50.  It features dual 3-terabyte RAID5 hard drive system, offering redundancy incase one of the hard drives fails.  Its fan-less design offer a whisper quiet operation.
Both the M50 and M52 embrace the power of the iPad/iPhone, offering an apps which allows playback control.
The M51 Direct Digital DAC ($2,000 US, available now) offers digital optical, coaxial and USB inputs (which support 192kHz/24-bit digital files) as well as analogue balanced and RCA inputs.  Then, there are also 2 HDMI inputs and an HDMI output.
For more info, please visit www.nadelectronics.com