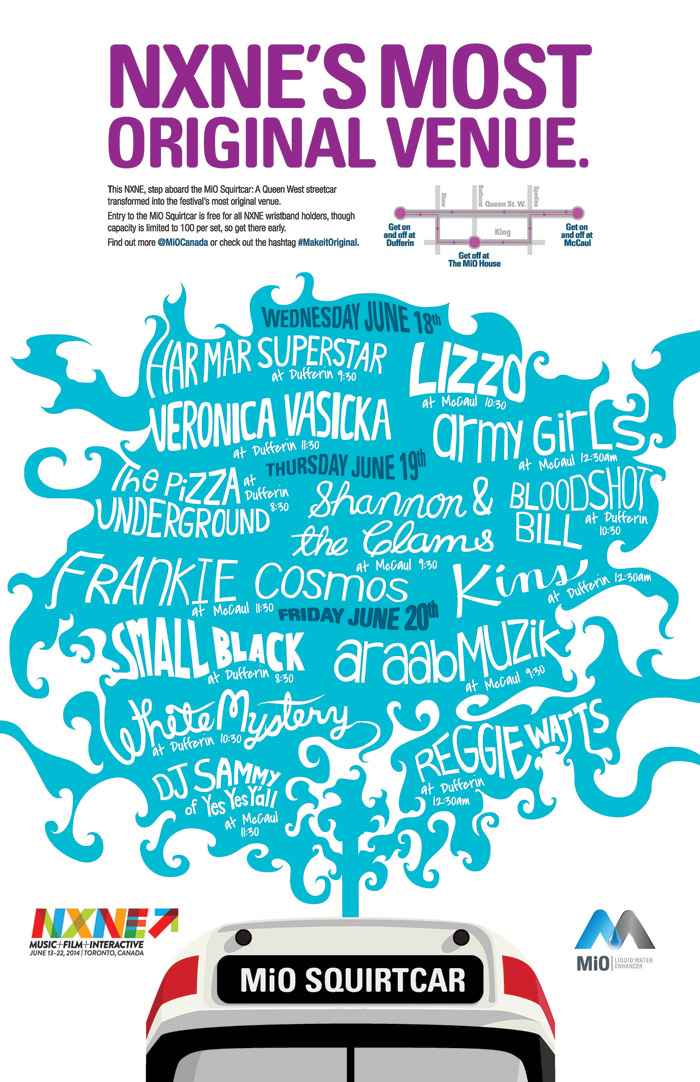 Have you heard of a little music festival called North by Northeast?  Haha… of course we're joking.  NXNE is a huge festival offering Music, Film, Interactive, Comedy and Art attractions.  It runs between June 13-22, 2014 in Toronto.  If you're looking to explore the city and its culture, there's no better time to do it than during NXNE.
This year, one of the must see attractions will be an array of events hosted by liquid water enhancer maker MiO, a title sponsor of NXNE.  MiO's events feature the MiO Squirtcar concert series, a non-stop dance party, and a downloadable mobile phone app, all designed to create an unforgettable fan experience.
The MiO Squirtcar is one of the coolest ideas we've heard of happening at NXNE.  MiO will transform a redesigned streetcar into an official venue for a concert series with a stacked lineup of artists.  Some of the performers include Reggie Watts, The Pizza Underground, Shannon and the Clams and many others. Wristband holders can climb aboard every evening, June 18 to June 21, for a party that constantly evolves.
Another unique idea, the MiO POV App will allow music fans to use their smartphones to share the spotlight with their favourite artists at NXNE's Yonge and Dundas Square stage on Thursday June 19.  It will let users appear on giant screens in real-time, something that has never happened before at Yonge and Dundas Square.
Festivalgoers love darting around the city, but they still need a home base and The MiO House in the Hoxton at King Street West and Bathurst Street will be it. Each night of the festival, this non-stop party will host some of the world's best Electronic Dance Music acts, letting fans have a completely original experience every time the needle drops or the cross-fader slides.
We're all big fans of NXNE at CANADA HiFi, so you can count on us roaming the streets during the festival.  Are you coming?
Check out more info at www.nxne.com or @MiOCanada.
Comments are closed.