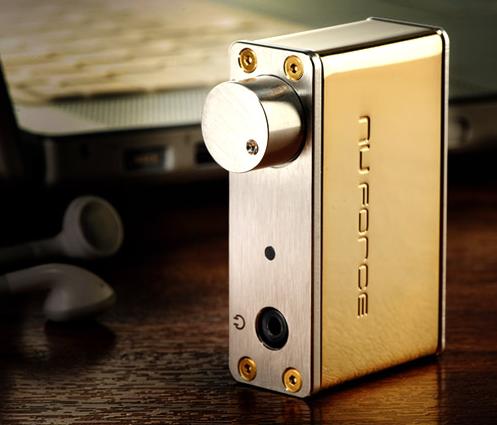 NuForce, Inc., has just announced a new product that will appeal most to the audio fashionistas among us. The new uDAC-2 Signature Gold Edition (SGE) combines a 24-bit/96kHz USB DAC and a headphone amp into a single portable device. The SGE has the classic lines of the uDAC-2 but steps up its apparel to a new level with a genuine Swarovski crystal on the volume control and a genuine 24-karat gold plated skin covering its stainless steel panels.
This uDAC-2 SGE was designed to meet consumer desires for high fashion quality sound products. The uDAC-2 SGE can connect the user's computer to their home stereo system, desktop sound system or headphones, providing an elevated sonic performance. The compact size increases its versatility.
When the uDAC-2 SGE is connected to a computer via the included USB cable, it processes incoming music data files via its audiophile-grade USB audio receiver and then uses a high performance D/A converter chip to translate the data into analog signal, which is then piped out to the connected stereo component, active speakers or headphones. This convergence process allows users to unlock the audio potential of their digital music files and hear their music the way it was intended.
The integrated headphone amplifier of the SGE accommodates a 3.5mm plug and has been designed to supply adequate amperage for greater audio clarity.
The uDAC-2 SGE comes packaged with a protective leather case, premium USB cable, cleaning cloth and carrying pouch.
Features and Specifications:
Inputs: USB (USB 1.1, 2.0 compatible)
Outputs: stereo RCA (analog); coaxial RCA (digital); 3.5mm headphone
Dimensions: 2.68″ x 1.50″ x .82″
Cryogenic treated circuit board
Double jitter-reduction mechanism at data level and oversampling filter stage
High voltage 2V analog output
High-quality analog volume control
No capacitors in any of the audio signal paths
Low power consumption: USB self-powered, no external power supply required
The uDAC-2 SGE is currently available from www.signature.nuforce.com for $399 U.S.