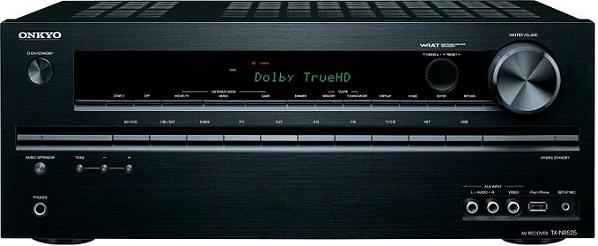 Onkyo has just announced three new A/V receiver models with network connectivity – the TX-NR525 (5.2-channel), TX-NR626 (6.2-channel), and THX Select2 Plus TX-NR727 (7.2-channel).  All three new models offer 4K Ultra HD passthrough via HDMI.
The TX-NR525 is the lowest in cost but provides network connectivity and streaming service implementation-along as well as Bluetooth and wireless LAN via optional adapters.  The TX-NR525 has six HDMI inputs, Audyssey MultEQ as well as other convenient features.
The next model up is the TX-NR626 which adds to the TX-NR525 features with built-in Wi-Fi and Bluetooth that is supported by a remote app for lossless audio streaming from iPhone and Android-based devices.  There is also an app-controllable FLAC, Apple Lossless, Dolby TrueHD, LPCM and DSD hi-res streaming from NAS and personal computer via network and DLNA.  On the power side, the TX-NR626 utilizes Three-Stage Inverted Darlington Circuitry on the front three channels, which is designed to provide high output with minimal distortion.
The third models is the highest prices of the three but also the highest performing with the most features, which include THX Select2 Plus-certification.  The TX-NR727 Network A/V Receiver is a 7.2 channel receiver with Three-Stage Inverted Darlington Circuitry on all 7 powered channels for high performance output in larger rooms.  The receiver offers Dolby Pro Logic IIz and Audyssey DSX upmixing, and Whole House Mode for distributed audio in up to three zones. Eight HDMI inputs include MHL support for 1080p video from smartphone and tablet.  Two HDMI outputs are provided together with InstaPrevue video switching technology and a simple HDMI-powered GUI. Remote app control extends across three zones, which allows audio streaming from the local network.
All three models incorporate Onkyo WRAT (Wide Range Amp Technology) which Onkyo claims utilizes low-negative-feedback amplifier topology that extracts full audio dynamics from source signals and allows for greater instantaneous current capability.
The new Onkyo A/V receivers are available as follows: TX-NR525 $499 U.S. (April 2013); TX-NR626 $599 U.S. (April 2013); TX-NR727 $899 U.S. (May 2013).  Look for more details at: www.onkyo.com.