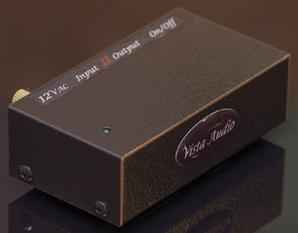 Vista Audio has just released a new version of their Phono-1 preamplifier, simply named the the Phono-1 MkII.   
Vista Audio states that the Phono-1 MkII is an evolution of the original Phono-1, leveraging the same topology.  The modifications that have been incorporated into the new Phono-1 MkII version are said to provide additional flexibility as well as increased MC cartridge performance.
The new Phono-1 MkII preamplifier includes optimized setup for the end user's cartridge of choice.  Adjusting load and gain is a simple process that can be performed by the user – simply removing four screws and inserting appropriate resistors into the existing sockets.  Resistors that optimize operation for different cartridges are supplied with the preamplifier.
Key Features and Specifications:
• Direct Coupling (no capacitors in the signal path)
• 0.07dB RIAA tracking
• <0.005% THD
• Class A operation
• Bandwidth: 10Hz-50kHz
• Input impedance: (MM) 47kohm/150pF; (MC): 20 ohm – 47 kohm
• Gain (MM):Adjustable: 40-70dB
• Gain and loading tailored to a specific cartridge at no charge
• Passive RIAA
• 0.1% resistors
• 1% capacitors
• Active offset Cancellation
• Gold plated PCB
• Steel case for EMI shielding
The Vista Audio phono-1 mkII is currently available at a price of $299.00 U.S.  Look for more details at: www.vista-audio.com.