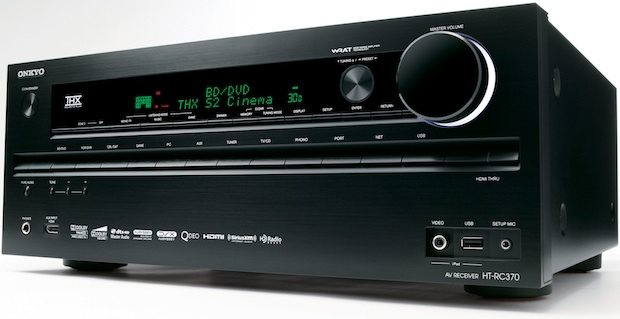 For a few years now, Onkyo has been outfitting its AV receivers with all of the latest and greatest features.  And the two new additions, HT-RC370 and HT-RC360, are no different, offering expanded audio, video, USB, network and internet connectivity.
The new Onkyo HT-RC370 and HT-RC360, which replace the HT-RC270 and HT-RC260, are among the first AV receivers equipped with the new Marvell Qdeo 4K video upscaling processor. Both include a front-panel USB port that offers a direct digital connection for an iPod or iPhone, along with support for audio playback from USB mass-storage devices. The USB port even support album art from your iPod/iPhone. Among other upgrades, the HT-RC360 gains full networking capabilities while the HT-RC370 adds Audyssey MultEQ XT processing.
These two network-capable receivers support streaming PC audio and Internet radio from the likes of Pandora, Rhapsody, Napster, SiriusXM Internet Radio, Slacker, Mediafly and vTuner and provide compatibility with Windows 7 and DLNA. The Internet connection greatly simplifies the process of providing future updates to the receiver's firmware. These networking models can also take advantage of Onkyo's free Remote App for iPod, iPhone, or iPad to control the A/V receiver. Both models are also compatible with the recently announced UWF-1 Wireless USB Adapter that provides an IEEE 802.11b/g/n connection to access music on a home network.
For movie and home theater enthusiasts, these receivers have more than enough HDMI inputs to accommodate any likely combination of cable TV, satellite, and disk player sources, including 3D. Both the HT-RC370 and HT-RC360 now also include connections for USB, Ethernet, and Onkyo's proprietary Universal Port (U-Port), as well as a full array of traditional audio and video sources. 
Both new receivers promise exceptional sound quality, with the HT-RC370 featuring THX's Select2 Plus certification. Both modes are 7.2-channel surround sound systems with Audyssey DSX or Dolby ProLogic IIz processing included to provide alternative height or wide channels.  The advanced HDMI interface supports lossless high-definition surround sound via Dolby TrueHD and DTS-HD Master Audio codecs.  The HT-RC370's sonic performance has been upgraded with Audyssey MultEQ XT for a superior room equalization setup and the addition of Dolby Volume for optimal sound at any volume setting. The HT-RC360 uses Audyssey 2EQ room correction and includes Audyssey Dynamic EQ and Dynamic Volume to correct loudness issues. 
Both models feature the brand new Marvell Qdeo video-processing chip, which can upscale video to 1080p and beyond to as much as 4K of horizontal resolution, regardless of the source resolution. While 4K video display technology is not yet on the market, this new processor handles current-source upsampling with ease, and will be ready for future displays.
Both receivers include Onkyo's proprietary WRAT (Wide Range Amplifier Technology) amplifiers, and the HT-RC370 also employs Onkyo's three-stage inverted Darlington circuitry for even higher dynamics and lower distortion. Burr-Brown 192kHz/24-bit DACs are provided for all channels on both receivers. Like all current Onkyo receivers, they feature the company's Overlaid Graphic On-Screen Display so users can still watch a program while operating the menus. Onkyo's latest Graphical User Interface (GUI) lets users smoothly navigate internet radio, iPod/iPhone sources, or any other connected sources.
The Onkyo HT-RC370 and HT-RC360 will both be available in April with suggested retail prices of $849 US and $549 US respectively.
For more info please visit www.onkyo.ca