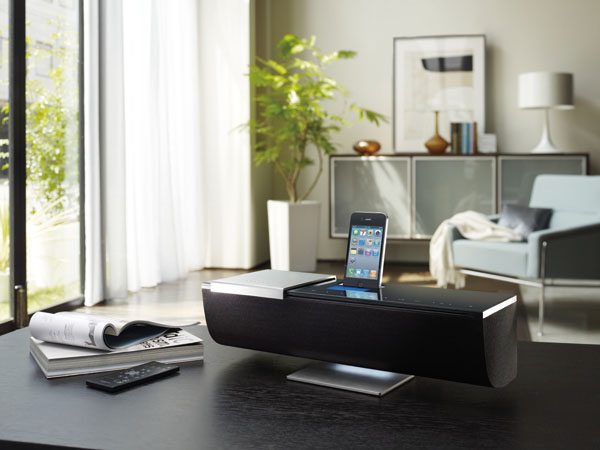 Onkyo has just announced its new iOnly line-up of products, which will consist of three compact music players and docking systems designed for the iPod, iPhone, and iPad. With digital music so much a part of everyday life, Onkyo's iOnly systems will now allow the user to enjoy their portable music collection in rich, room-filling stereo.
The three models, iOnly Play (ABX-100), iOnly Stream (ABX-N300), and iOnly Bass (SBX-300), were conceived as a way to offer users a greater level of convenience, practicality, and performance in portable and affordable packages.
The first model to be introduced in this series is the iOnly Play, which is designed specifically for iPod and iPhone devices. The second model will be the iOnly Bass, which will also accommodate the iPad. The iOnly Stream will follow later this year.
The iOnly Play is ideal for use on a shelf, table or desk-top in the home, dorm room, or office. With its flat-back exterior, brushed-aluminium base and cover, and dimmable foot lighting, the iOnly Play makes a tasteful addition to any room. The sliding cover also conceals and protects an easy-to-read graphical LCD display and touch-screen control buttons.
With the iOnly Bass, the docking port is on the lower front edge of the chassis providing solid support for an iPad. It also delivers superb sound through a pair of full-range speakers and tuned subwoofer port. With its modest weight and comfortable aluminium handle the iOnly Bass is an easily transported entertainment package.
Both the iOnly Play and iOnly Bass feature precision-engineered amplifier circuitry, full-range speakers mounted in isolated enclosures, and Active Bass Control for rich, room-filling sound.  Both models include a wireless remote control.
Onkyo's iOnly Play and iOnly Bass will be available in October with a suggested retail price of $249 US each.
For more info, please visit www.onkyo.ca.