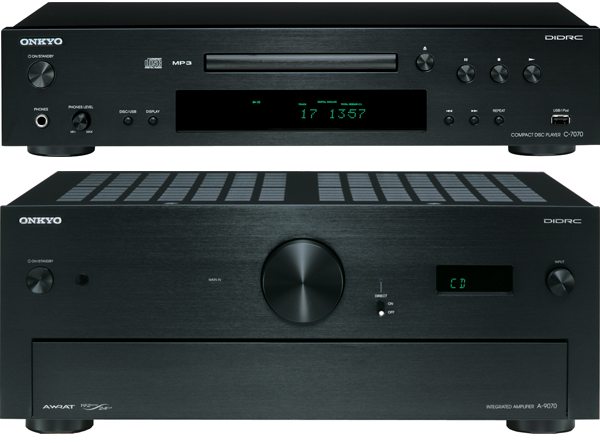 Onkyo has just announced the release of two new hi-fi components: the A-9070 Integrated Stereo Amplifier and C-7070 CD player.  Both units promise to offer state-of-the-art design, rugged engineering, a multitude of connectivity options, and a startlingly pure sound will appeal both to hi-fi newcomers and more seasoned music lovers looking to upgrade their equipment.
A-9070 Integrated Stereo Amplifier
The A-9070 amplifier offers four discrete modes—integrated amp, poweramp, pre-amp, and split power/pre-amp—to provide great flexibility when incorporating other components into the hi-fi system. Alone, it provides ample power with a parallel push-pull amplification design, three-stage inverted Darlington circuitry, dedicated Wolfson 192 kHz/24-bit DACs for symmetrically designed L/R channels, and four large 15,000 µF capacitors.
To preserve signal integrity, the unit features DIDRC (Dynamic Intermodulation Distortion Reduction Circuitry). Closed ground-loop circuits and vibration-damping construction combine to produce clear sound across a wide dynamic range. An independent headphone amplifier, a phonograph equalizer, and gold-plated audio terminals/speaker posts are evidence of high build quality.
C-7070 Compact Disc Player
The C-7070 is a versatile piece of audio equipment designed to play back a wide range of audio formats while carefully preserving the integrity of the signal. The unit is engineered around this objective, featuring vibration-damping brass legs, a 1.6 mm flat base, a full-floating circuit board, a pair of Wolfson 192 kHz/24-bit DACs, and Onkyo's Dynamic Intermodulation Distortion Reduction Circuitry. These improvements all work to reduce noise, distortion, and interference for pristine sound quality.
The C-7070 connects to iPod/iPhone devices via the USB port, and can play music off flash-memory drives. Other desirable features include a three-stage dimmer function, a brushed aluminum front panel, a silent aluminum CD tray, gold-plated audio terminals, and headphone amplifier differential circuitry.
The A-9070 and C-7070 will both be available in November with suggested retail prices of $1299 US and $799 US, respectively.
For more info, please visit www.onkyo.ca.