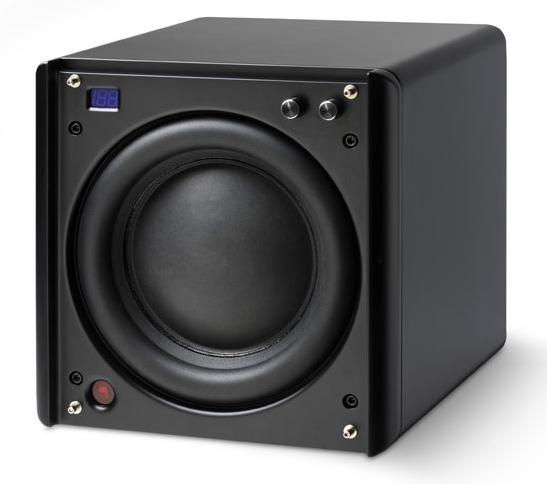 Velodyne has just introduced their new Digital Servo-10 (DS-10) subwoofer, which has been designed to provide accurate, powerful bass. The Digital Servo sub sits second to Velodyne's award-winning Digital DrivePLUS series of subwoofers.
The DS-10 has a furniture grade satin black finish; a large 19.3 lb. magnet motor; a die-cast aluminum basket; 1250 watt RMS (3000 watts Dynamic Power) patented ERS Class-D amplifier that operates at 97% efficiency; an ultra-stiff Kevlar–reinforced cone; a proprietary 3" dual tandem multi-layer voice coil; and Velodyne's patented Digital High Gain Servo system that corrects cone movement almost 16,000 times a second to lower distortion below 1%; all tuned, and all controlled by a high speed DSP processor.
Velodyne's exclusive digital accelerometer-based Digital High Gain Servo (HGS) technology lowers distortion at all frequencies and playback levels to less than 1%, which is claimed to result in higher clarity, eliminating such issues as muddy, boomy and unclear bass response.
The DS-10 subwoofer features Velodyne's Digital Drive room management technology to overcome anomalies in typical subwoofer frequency response due to a room's shape, size and features. Using a supplied microphone and the integrated EQ button on the remote control the Digital Servo-10 sub will correct for bass interactions caused by its position and the room environment it is situated in. The DS-10 can be used in the manual mode using Velodyne's Digital Drive room management technology. This allows the subwoofer's in-room frequency response to be measured using a calibrated microphone and can be monitored on a standard TV. The on-board 8-band digital graphic/parametric equalizer can be used to optimize the subwoofer's performance for any position in any room. The Digital Servo-10 also offers complete control over filter frequencies (both subsonic and low pass crossover), slopes, phase and polarity, which allows perfect matching of the subwoofer to any speakers in any environment.
The DS-10 is remote controlled and comes with factory presets for different music sources and movies. Presets can be changed to maximize the subwoofer for music, movies or games. The Digital Servo-10 subwoofer comes complete with everything needed to set up and enjoy the subwoofer: a calibrated microphone, cables, a built-in signal generator and remote control.
The Velodyne DS-10 subwoofer will soon be available at an MSRP of $1,999.00 U.S.
More information can be found at: www.velodyne.com.