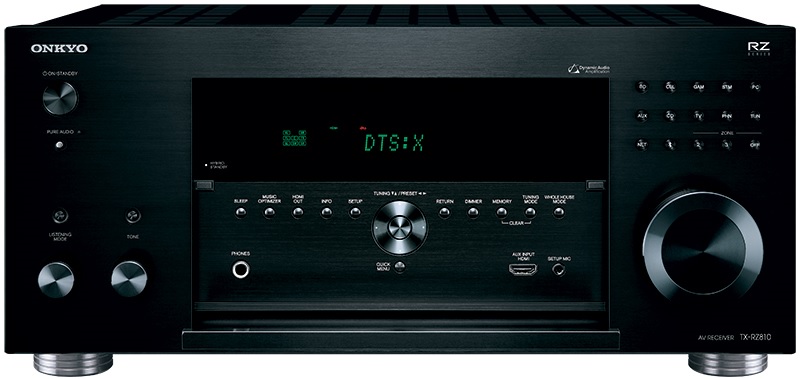 Onkyo has just announced three new 7.2 channel network receivers within its RZ Series. The RZ series has been developed to meeting the demanding needs of custom installation as well as the discerning audiophile. The new TX-RZ810, TX-RZ710 and the TX-RZ610 AV network receivers reflect Onkyo's commitment to superb craftsmanship and quality. In addition to these three new RZ series receivers, Onkyo will soon be unveiling details on its 9.2 and 11.2 channel RZ series offerings, including the 9.2 channel TX-RZ1100 network receiver, the 11.2 channel TX-RZ3100 network receiver and 11.2 channel PR-RZ5100 network pre-processor.
Each of the Onkyo RZ Series receivers contain features to make installation and integration with control systems easy. Connectivity options include RS-232, IR and 12v triggers as well as PC setup, detachable power cables and optional rack kits, simplifying installation. The RZ Series will be backed by a three-year warranty and feature priority customer support.
The TX-RZ810 (MSRP $1,699 CDN) & TX-RZ710 (MSRP $1,299 CDN) are THX Select2 Plus-certified for theater grade performance and are ready to decode Dolby Atmos and DTS:X surround formats for a captivating home theater experience.
Both feature Dynamic Audio Amplification with massive high-output transformers, upgraded and customized capacitors, and Onkyo's premium amp circuitry to deliver high-current power with the TX-RZ810 delivering 130W/ch (8 ohms, 20 Hz-20 kHz, 0.08% THD, 2 Channels Driven (FTC) while the TX-RZ710 brings 110W/ch (8 ohms). The TX-RZ810 also benefits from separate analog amplification and digital processing blocks as well as solid copper bus bars that limit interference and patented Vector Linear Shaping Circuitry (VLSC) on all channels for noiseless digital to analog conversion.
Video connectivity for these receivers is outstanding with eight HDMI inputs and two outputs-one for the main display and one for Zone 2 HDMI-allowing two 4K/60 Hz video (supporting High Dynamic Range, 4:4:4 color space, and HDCP 2.2) sources to be viewed in two rooms.
Both receivers can distribute entertainment across the home with FireConnect powered by Blackfire wireless technology which mirrors analog and digital audio on a compatible wireless speaker. Dedicated Powered Zone 2A/2B speaker outputs with Zone 2 DAC (NET, SPDIF, HDMI), Zone 2 pre/line-outs enhance multi-room capabilities, while the TX-RZ810's Zone 3 pre/line-outs and 7.2 multichannel pre-outs add flexibility for audiophiles looking to customize their A/V setup further.
The new TX-RZ610 AVR (MSRP $999 CDN) is Onkyo's entry-model to their premium RZ series. It is a 7.2-channel network A/V receiver that delivers 100 W/ch (8 ohms). Manufactured with top-quality components, including massive power transformer, custom-spec capacitors, and discrete non-phase-shift amp circuitry, this high-current design enables full-spectrum reproduction down to 5 Hz while improving control of speaker drivers for dynamic, sound.
The unit also features rigid insulator feet to dampen vibration-borne interference, while the 384 kHz/32-bit DAC from AKM pairs with VLSC technology to eliminate digital noise from audio signals. HDCP 2.2-compatible HDMI inputs are ready for 60 Hz UltraHD video including High Dynamic Range and 4:4:4 color space. Finally, the Zone 2 DAC takes network and digital sources to dedicated powered Zone 2 speakers.
All three receivers benefit from the company's new AccuReflex technology-part of its AccuEQ room calibration suite- that ensures that stereo and object-based surround-sound formats are reproduced with striking clarity. The technology adjusts the phase of sound bounced off the ceiling by up-firing speakers so that it syncs perfectly with sound from the other speakers to create a more accurate Dolby Atmos experience. Together with AccuEQ to eliminate standing waves, surround-sound is precisely balanced for supreme clarity.
As well as being ready for 4k UltraHD movies, users can stream almost any audio content from mobile devices and laptops via AirPlay, Google Cast, or Bluetooth to these receivers and share it wirelessly via FireConnect or to other wired zones to enjoy content such as podcasts, Spotify, TIDAL, and Hi-Res Audio, or the traditional sounds of FM/AM radio, cassette, and vinyl records.
These three new RZ receivers are expected to be available in April 2016 at the following MSRP pricing: TX-RZ810 (MSRP $1699 CDN), TX-RZ710 (MSRP $1299 CDN) and the TX-RZ610 (MSRP $999 CDN). For more information, visit the Onkyo website at: http://www.onkyo.ca.