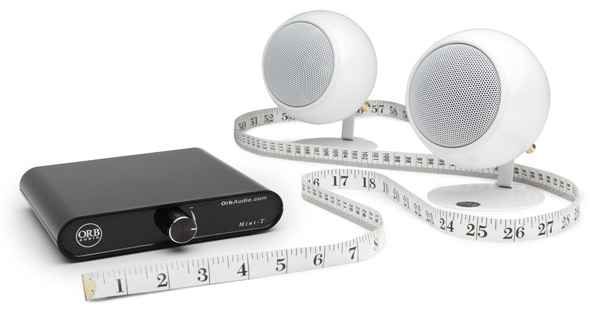 Orb Audio has just launched a new Mini-T, an innovative micro-sized Class T amplifier designed for use with computers, televisions, iPods and most mobile devices.  The new Mini-T is even smaller than the original Mini-T and features a new glossy black cabinet, improved signal path design, and the first dedicated subwoofer output available at this price and size.  When paired with Orb Audio's compact speakers and subwoofers, listeners can achieve the highest quality output from the smallest possible package.
Like its predecessor, the new Mini-T allows listeners to use high-quality home speakers instead of resorting to cheaply designed self-powered speakers.  The new Mini-T can be paired with speakers already found in your home, or can also be combined with Orb Audio's Mod1 and Mod2 speakers.  Either way, the result is a simple, easy to use solution that brings high-quality audio performance to almost any device.
The new Mini-T is still based on T-Class amplifier technology.  It features incredibly low harmonic distortion (just .04%) and high quality, crystal clear output.  For 2013, Orb Audio has upgraded to "gold pin" Tripath amplifier chips and completely redesigned the signal path to reduce noise to the lowest levels yet achieved in a Mini-T design.  The addition of a subwoofer output also means that consumers can now enjoy deep, powerful bass without resorting to a full size and expensive home theater receiver.
Available as a standalone product for $69, the Mini-T can also be purchased in a package with two Orb Mod1 speakers for $299.
For more info, please visit www.orbaudio.com