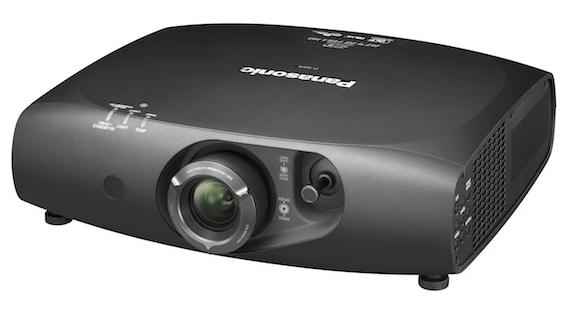 Panasonic has just announced the immediate availability of its new Solid Shine Series of lamp-free projectors with Digitial Link technology.  This new product line includes the PT-RZ370 Series, which will begin shipping this month and the PT-RZ470 Series projectors that will be available in March.
The LED/laser light source in the SOLID SHINE Series of 1-Chip DLP projectors delivers up to 20,000 hours of virtually maintenance-free operation, representing a new and important milestone in the evolution of projection. All models in the Series deliver 3,500 lumens of brightness and provide features that make these projectors ideal for educational institutions, as well as museums, command and control centers, and digital signage applications.
All SOLID SHINE Series projectors are equipped with a DIGITAL LINK terminal, and by combining the optional ET-YFB100G Digital Interface Box with its HDMI and other input terminals, transmission of uncompressed HD digital video, audio and control signals (Ethernet, RS-232C) for up to 100 meters (328 feet) through a single CAT5e (STP) cable or higher is made possible. This simplifies cabling and system upgrades, making the projectors ideal for ceiling-mounted and other permanent installations. The combination of DIGITAL LINK with this lamp-free lighting technology significantly reduces end user installation and maintenance costs.
DIGITAL LINK is an original function added to technology based on the transmission standards used in Crestron's DigitalMedia 8G+ and Extron's XTP Systems, as well as others. Signals from the ET-YFB100G Digital Interface Box can also be relayed to a non-DIGITAL LINK-ready projector by using another manufacturer's equipment based on the same technology.1
The PT-RZ470/RZ370 Series projectors offer installation flexibility, with a 2x zoom, wide lens shift capability, HDMI/DVI digital inputs and Crestron RoomView compatibility. The PT-RZ470 Series offers additional flexibility with Portrait Mode projection capability, as well as Edge Blending, Color Matching and 3D projection.
The PT-RZ370 Series, which includes the PT-RZ370U and PT-RW330U, are available immediately through authorized Panasonic resellers at a MSRP (U.S.) of $5,899 and $4,599, respectively. The PT-RZ470 Series, which includes the PT-RZ470UK/UW and PT-RW430UK/UW will be available in March at an MSRP  (U.S.) of $6,799 and $5,499, respectively. The projectors come with a standard 3 year limited warranty and illumination parts are warranted for 10,000 hours.
For more information on Panasonic's professional projector solutions please visit: www.panasonic.com.