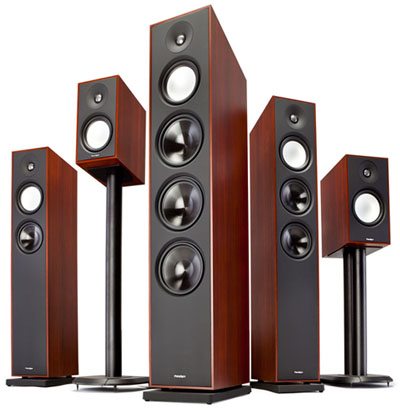 If you're looking for high-value, high-performance speakers look no further than the new Paradigm Monitor Series 7 loudspeakers, designed for music and home theatre enthusiasts.  This new series is a complete redesign of the lineup, both technologically and aesthetically. While faithfully preserving the natural acoustic signature of Monitor Series speakers, this generation offers critical sonic refinements through the introduction of Paradigm Reference design and technology in spades. A cleaner, more linear aesthetic rounds out the new package.
Monitor Series 7 design highlights:
Self-aligning magnetic grille design. Honeycomb interior corner architecture ensures a more spacious and transparent sound since the new architecture prevents sound capture in grille corners … acoustic integrity remains intact whether speakers are played with grilles on or grilles off.
Complete baffle redesign:  ¾? MDF baffles across the board for further increased solidity and cabinet resonance reduction; A cleaner, fastener-free front-panel aesthetic; Magnetic baffle design makes it easier to remove should servicing ever be necessary; Baffle has been FEA-optimized to remove resonances and vibrations and critically tuned to the rest of the cabinet.
Elegant plinth (base) provides stability for the narrower floor standing footprints and a stylistically cleaner, less intrusive alternative to outrigger feet.
20% overall reduction in model footprints – floor standers and centre channels.
Monitor 7 is a new size and a 3-driver model (vs. 4 drivers in previous iterations) covering the spectrum through a tweeter, mid/bass and bass driver with audible improvements in sensitivity and extension.
Monitor 11 is now the size of the original Monitor 9 v.6 but a 5-driver model (vs. 4 drivers in previous iterations) covering the spectrum through a tweeter, dedicated midrange driver and three bass drivers with audible improvements in sensitivity and extension
Two new centre channels have been introduced to replace the original CC-190, CC-290 and
CC-390 – the new centres are known as Center 1 and Center 3 and both acknowledge acoustic refinements over earlier centre channels including decreased footprints to better fit today's a/v furniture sizes.
Monitor Surround 1 has replaced the ADP's of the previous Monitor Series and Surround 3 featuring revised design and technology in keeping with the way sound is being mastered and mixed in today's recording studios.
Trickle-Down Technology from Paradigm's Reference lineups includes:
1? S-PAL satin-anodized pure-aluminum dome tweeter (vs. titanium in earlier versions):
Waveguide design offers improved high-frequency dispersion
Mesh guard offers added protection for the dome tweeter
S-PAL satin-anodized pure-aluminum cones (vs. injection-molded co-polymer in earlier versions):
New lightweight foam-rubber surround geometry (from Studio Series) with exceptional damping   properties and much higher excursion capability
New high-temperature voice coils (aluminum or copper) wound on Kapton formers
Large ferrite magnets; super neodymium magnets in Monitor 11 dedicated midrange driver
Carbon-infused co-polymer polypropylene bass cones with motor structures tweaked as per bass/mid drivers
Greater sensitivity and deeper bass extension on floor standing models and centre channels
Monitor Series 7 is available in Black Ash and a new Heritage Cherry finish. Surrounds are in Black. Model lineup and estimated US pricing for the series is as follows:
Atom Monitor: $199
Mini Monitor:    $279
Monitor 7:        $449
Monitor 9:        $599
Monitor 11:      $799
Center 1:         $379
Center 3:         $599
Surround 1:      $279
Surround 3       $399
For more information, please visit www.paradigm.com.