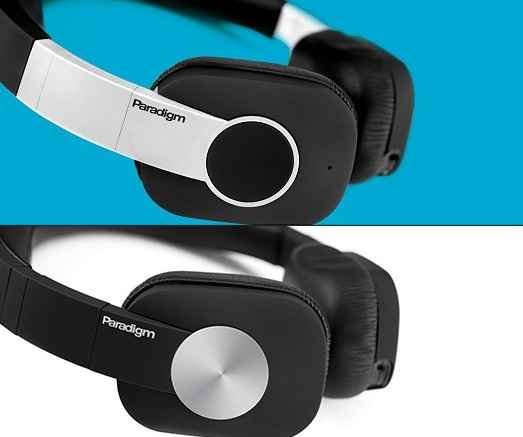 Paradigm Electronics under their SHIFT brand has just annouced the release of their new H15NC and H15 on-ear headphones.  The new headphones incorporate a number of propritary sound innovations. 
To design the H15NC and H15 on-ear headphones, Paradigm designers used their advanced Bruel and Kjaer Head and Torso Simulator (affectionately named Angelina) that serves as a human simulator to measure the output of the headphones towards improving peformance and ergonomics.
H15NC headphones feature a proprietary active supra-aural noise cancelling technology. Its dual microphone design uses sophisticated mathematical algorithms to deliver a completely silent and distortion-free noise floor. The H15NC's onboard user interface with LED indicators allows easy access to the Noise Cancellation feature. Supple breathable leather earcups (H15NC) with Comfort-Tilt™ adjustments and unique Flexi-Point™ sliding adjustable headband on both models were purpose designed and rigorously tested for comfortable extended listening.
KEY FEATURES (common unless otherwise stated):
• Quality aluminum and composite construction;
• 40-mm mylar drivers with15-mm voice coils and powerful neodymium magnet structures;
• In-line remote and microphone: take calls, change tracks and adjust volume via the remote (compatible with Apple i-Devices and most smart devices);
• Supple, breathable protein leather earcups (H15NC);
• Soft synthetic leather earcups (H15);
• Comfort-Tilt™ adjustment on earcups;
• Unique Flexi-Point™ adjustable sliding headband accommodates a variety of head sizes;
• Detachable cable;
• Gold-plated, right-angled 1/8? 4-conductor plugs;
• Flat folding design that allows for easy storage;
• Padded travel case (H15NC);
• Travel pouch (H15).
TECHNICAL SPECIFICATIONS:
H15NC:
Drivers: 40-mm mylar drivers with 15- mm voice coils and neodymium magnet structures
Frequency Response: 20 – 20,000 Hz
Sensitivity: 106 dB
Impedance: 32 ohms ANC off / 105 ohms ANC on
Maximum Input Power: 15mW
H15:
Drivers: 40-mm mylar drivers with 15-mm voice coils and neodymium magnet structures
Frequency Response: 20 – 20,000 Hz
Sensitivity: 106 dB
Impedance: 32 ohms
Maximum Input Power: 15mW
The H15NC and H15 are now available from select Paradigm Dealers throughout North America at the following pricing:  H15NC: $299 and H15 is $199.  More details can be found on the SHIFT website: www.paradigm.com/shift