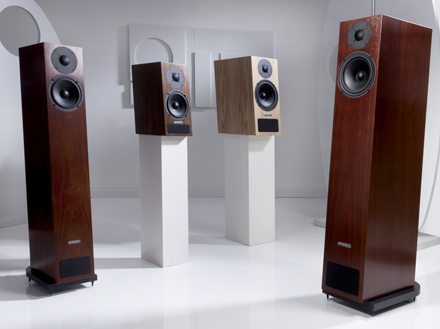 PMC just celebrated its 20th anniversary and has launched a commemorative new and appropriately named loudspeaker series – the 'twenty' series.
The new series includes four models – two standmount models and two floorstanders and all have a 'lean back' cabinet design, angled at five degrees from vertical to reduce resonances and aid time alignment of the drivers.
A new 27mm soft dome Sonolex tweeter is used in all the models, with a resonance chamber allow for a 1.8kHz crossover. The mid/bass units – 14cm in the twenty.21 and twenty.23, 17cm in the larger models.
The bass unit utilizes the PMC Advanced Transmission Line in all models and the crossovers are hand-built and hand-matched. Cabinets are made from 18mm high-density fibreboard, with internal bracing.
The speakers are finished in a choice of oak, walnut or amarone real wood veneers or – at a premium – in high-gloss Diamond Black. Rare-earth magnets are used to create invisible fixings for the grilles, and while the floorstanding models come complete with matching plinths, decoupled from the cabinets using cork and rubber, optional stands are available for the standpoint models.
These use twin columns, with the same five degrees slant as the cabinets, and have metal/rubber/metal top-plates and baseplates for better damping. The front column of the stands can be filled with loading material, while the rear one provides a cable-management channel.
The four models in the range are:
twenty.21: 32.5cm tall, 87dB/W/m sensitivity, frequency response 50Hz-25kHz, £1375/pr
twenty.22: 41cm tall, 90dB/W/m sensitivity, frequency response 40Hz-25kHz, £1825/pr
twenty.23: 94.3cm tall (with spikes), 87dB/W/m sensitivity, frequency response 29Hz-25kHz, £2095/pr
twenty.24: 105.3cm tall (with spikes), 90dB/W/m sensitivity, 28Hz-25kHz frequency response, £3100/pr.
The optional stands are £295/pr, and the Diamond Black finish is an 8% premium on the smallest two models and 10% on the rest of the series.
All the twenty series speakers will be made available in the next couple weeks, with a 20-year warranty in tow.
Look for more details at: www.pmc-speakers.com.