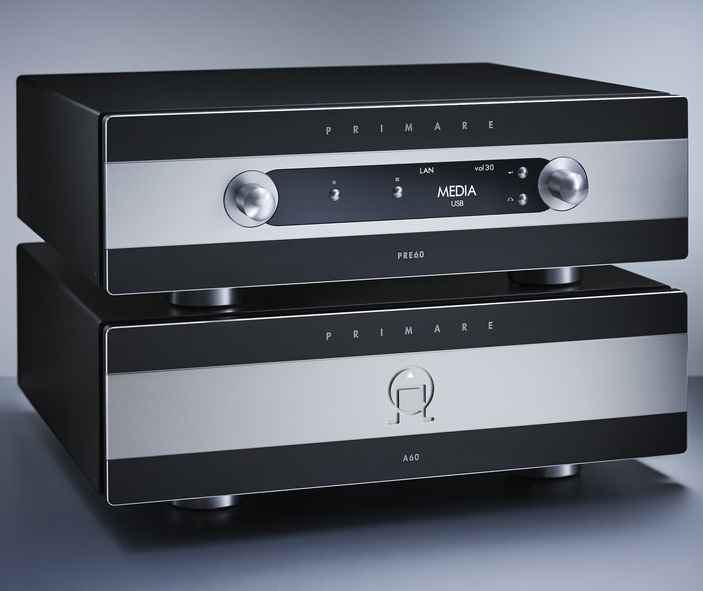 Primare, a Sweedish audio product manufaturer, is now shipping their new luxury 60 series pre/power amplification system.  The 60 series is entirely designed and built in Sweden.  The new PRE60 preamplifier and A60 power amplifier are Primare's return to the high-end music system market, incorporating state-of-the-art audio streaming performance and striking aethetics. 
Taking their traditional build quality and analogue circuit design with the finest digital processing, the first 60 series music system is a significant step-up from the Primare's 30 series brings a new supremely audiophile level of performance to Primare product line-up.
The PRE60 is a reference audiophile pre-amplifier.  The chassis is heavy gauge alloy steel with a comprehensive OLED display.  the PRE60 provides two pairs (L/R) of low-noise balanced XLR inputs, 4 pairs of RCA inputs, RS232, trigger, and IR inputs.  There are two pairs of RCA outputs and 2 pairs balanced XLR outputs, as well as a record output.
The PRE60's integrated DAC/media board offers MEDIA/streaming connections such as USB, iPad, LAN etc. It provides up to 24 bit/192 kHz streaming of files from Internet, NAS or PCs, as well as Internet radio content and also a digital audio input from a range of devices including CD players, smart phones, personal players, sat boxes etc.
Precise input calibration and system set-up is easy to achieve via the PRE60's simple but responsive remote and clear OLED display, which is dimmable in four steps. The Primare App for iOS or Android is available to control PRE60 functionality including input selection, volume and the browsing and selection of online and stored media.
The matching A60 is a reference audiophile, fully balanced 2 x 250Watts-per-channel low-distortion stereo power amplifier that utilizes four discrete amplifiers (two per channel) in a fully balanced configuration. Each channel incorporates unbalanced RCA and balanced Neutrik XLR inputs, as well as high quality WBT Nextgen speaker terminals, trigger and RS232 control inputs. Unbalanced input signals are converted to balanced signals by an integral high quality conversion stage.
Both the PRE60 and A60 components are now available for purchase, with European pricing inclusive of VAT, as follows: PRE60 preamplifier £6500 and; A60 power amplifier £6500.  Look for more details on these products at: http://www.primare.net/.
Comments are closed.