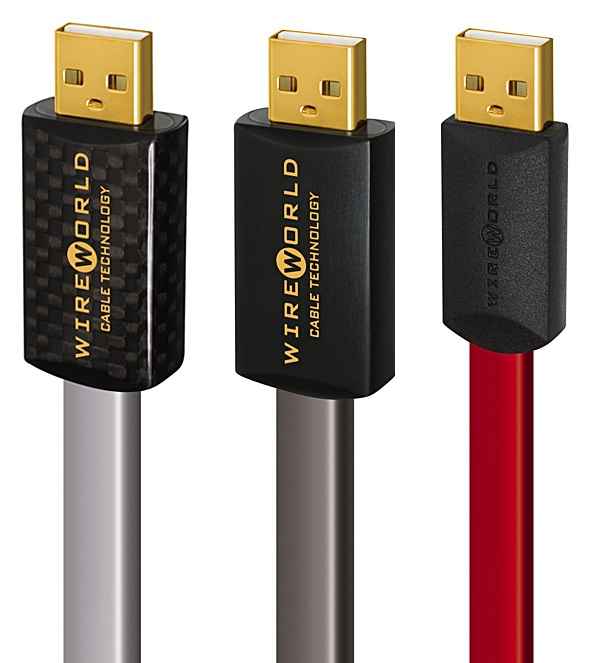 Wireworld Cable Technology, has announced the release of their Series 7 reference USB Audio cables – namely the Platinum Starlight 7 USB and Silver Starlight 7 USB (left two pictured above), which joins their existing Series 7 models, including their Starlight 7 (pictured on the right-end above) .  The new Series 7 cables are purported to be dramatically quieter, due to the use of Composilex 2 insulation, while their transmission speed has been increase to > 10.2Gbps by incorporating an upgraded DNA Helix design.  These two upgrades are claimed to minimize jitter and thus provide a higher level of musical realism.
The cables employ Wireworld's patented DNA Helix design with six signal conductors that are arranged in a newly expanded symmetrical geometry.  This serves to direct more electromagnetic energy and exceed a 10.2Gbps transmission speed, which is higher than the official USB high speed specification. The Composilex 2 insulation reduces triboelectric noise and triples the noise-absorption to produce lifelike tone color and imaging.
The Platinum Starlight 7 USB features molded carbon fiber connectors and six solid silver conductors (3 x 23AWG) for uncompromised performance, while the Silver Starlight 7 USB features the same DNA Helix design with six silver-clad OFC conductors and aluminum connectors at $300 for a one meter cable.  Both cables are available in lengths from .3 to 5 meters in A to B and A to mini B configurations.  The Platinum Starlight 7 USB has a MSRP of $700 U.S. / 1-metre and the Silver Starlight 7 USB has a MSRP of: $300 U.S./1-metre.  For more information, visit: http://www.wireworldcable.com
Comments are closed.