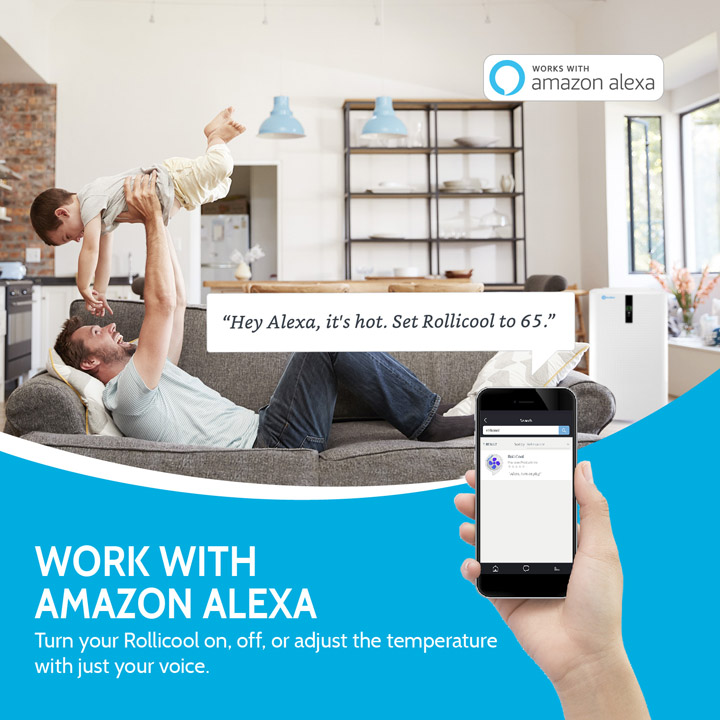 RolliBot has just announced its RolliCool line of Amazon Alexa enabled "smart" portable air conditioners. Ranging from 10,000 to 14,000 BTU capacity, the RolliCool line consist of three models.  Each can be controlled with voice commands and also features an iOS/Android app that allows full control from anywhere in the world.
The RolliCool line aims to make smart-home climate automation an affordable option, incorporating many of the features of more expensive central cooling and heating systems in a sleek, portable design. All three units function as air conditioners, heaters and dehumidifiers. All RolliCool models also use eco-friendly R410-A coolant.
The RolliCool 100H, 310 and 208 give you the ability to ask Alexa to power RolliCool on or off, switch modes and adjust temperatures. Not home? No problem. Use the app from anywhere in the world to set heating and cooling schedules, switch between modes, adjust fan directions and change fan speeds. All models feature a 24-hour timer, remote and digital display, sleep mode, whisper quiet operation, high-efficiency filters, and fan-only and dehumidifier modes.  Available this June.