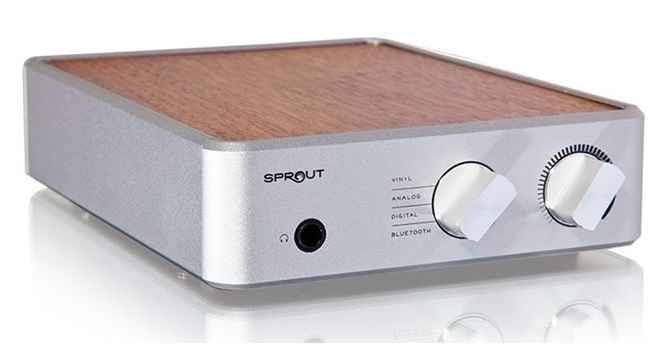 PS Audio has just annouced a Kickstarter campaign for the 'Sprout', an all-in-one integrated amplifier.  The Sprout was recently shown in prototype form at the Munich High End show.  Sprout is small, simple but  high-quality – incorporating a 50 watt/channel integrated amplifier, a phono preamplifier, 24/96 asynchronous DAC, headphone amp and a Bluetooth receiver.  Along with having a phone input and digital inputs, Sprout can play wirelessly from smartphones.
The Sprout has been developed to make an impact with a younger generation of music enthusiasts who are just not aware of what high-quality sound is.  PS Audio has maintained its standards of quality with the Sprout, utilizing aircraft-grade aluminum, steel and walnut.
Backers of the Kickstarter campaign will have the opportunity to sample 'Sprout' for as little as $399 U.S. before it begins shipping in Q3 2014 to specialist audio retailers and online resellers, where it will sell for an MSRP of $799.99 U.S..   The campaign will be run for 30 days, and can be found here: https://www.kickstarter.com/projects/2022604828/sprout-hifi-stereo-amp-that-transforms-the-way-you.
Sprout Specifications:
Dimensions: 6″W x 8″L x 1.75″H
Inputs: Phono (Moving Magnet), Analog, USB (asynchronous 192/24), Digital Coax
(any sample rate and bit depth up to 192kHz 24 bits), Apt X Bluetooth (built in).
Stereo power Amplifier 8‡ 33W, 4‡ 53W (1KHz, @1% THD)
THD <0.025% at normal listening levels •Headphone output 16‡ 500mW, 300‡
425mW •S/N Ratio (A-weighted) >90dB
Retail MSRP $799.99 U.S.
Look for more details to become available at: http://www.psaudio.com/.
Comments are closed.