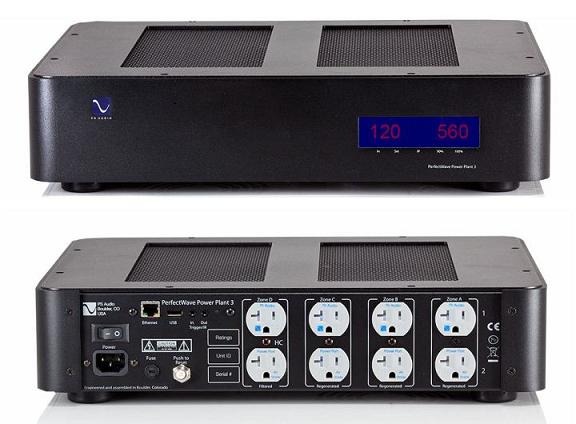 PS Audio has just begun to ship their new PerfectWave P3 Power Plant. The new P3 has been created to produce the similar benefits to their more upscale P5 but at a much friendlier price. The P3 also incorporates a number of upgrades over existing PS Audio models, such as: voltage fluctuation handling of up to 170 volts; twice the energy storage of the Power Plant Premier and; an output impedance 100 times lower than previous models.
The P3 sits as the third largest of PS Audio's personal power generating stations and provides fully regenerated and protected power for all sources and smaller power amplifiers along with a high current filtered output that can drive even the largest power amplifiers made.
PS Audio's Power Plant P3 AC regenerator takes the power from the wall, converts it to DC, and then with patented PS Audio technology, regenerates and amplifies new sine-wave-perfect, high current AC power.
PS Audio believes that output impedance of a power source is a key to how connected equipment will perform and that the lower the output impedance of the Power Plant, the better the depth, separation of instruments and spatial qualities of the musical soundstage will be. The PerfectWave Power Plant P3 has very low output impedance (100 times reduction over any PS Audio Power Plan conditioner), which is claimed to provide a significant increase in performance in the areas of dynamics, openness and transparency.
The P3's user interface keeps with Perfect Wave series products, utilizing a touch screen to access all functions as well as critical evaluation of your incoming and outgoing voltage supply with greater depth and accuracy than before, using a front panel oscilloscope.
The P3 will handle even wider voltage fluctuations than any Power Plant yet, up to 170 volts. Compared to the previous state-of-the-art Power Plant Premier, the P3 boasts twice the magnetics, twice the energy storage and four times the number of output devices, which provides a stunning reduction in output impedance.
PS Audio's new on-board network technology provides unprecedented control and monitoring of all your connected devices. Automatically reboot routers, modems, and network devices when Internet dropouts occur; schedule devices to power on and off automatically optimizing power consumption in your system and; receive emails automatically when power occurrences occur, as the PerfectWave Premier P3 is automatically reacting on its own. You can access the P3's control panel through any web-enabled device, including a Blackberry or iPhone. From there, any connected equipment can be rebooted, turned on or off, or have its status checked.
In the back of the P3 there are two mini jacks that can be assigned as either an IR input or output or a DC trigger transmitter or receiver.
The PS Audio PerfectWave P3 Power Plant is now retailing for $2,495.00 U.S. More information can be found at: www.psaudio.com