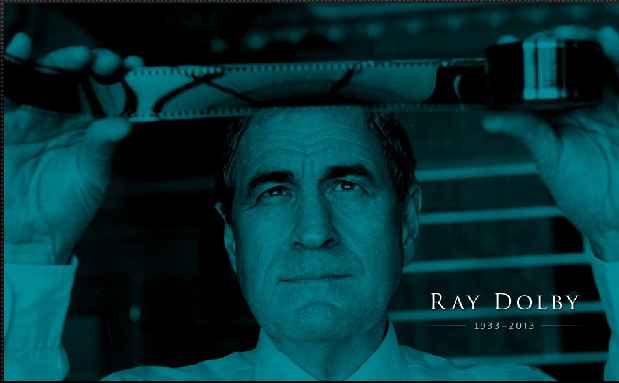 Dolby Laboratories (DLB) has announced that their founder Ray Dolby died  at his home in San Francisco yesterday, Sept. 12th.  Dr. Ray Dolby was 80 years old (January 1933 – September 2013) and had been living with Alzheimer's Disease and was diagnosed this past July with acute leukemia.
Dr. Dolby founded Dolby Laboratories in 1965 and his innovative and pioneering work in noise reduction and surround sound has led to 50 U.S. patents connected to many state-of-the-art technologies.
Dr. Dolby attended high school on the San Francisco Peninsula and then Stanford University, which led to him working at Ampex Corporation, where he was the chief designer of all electronic aspects of the first practical videotape recording system.
Dolby Laboratories, which Dr. Dolby founded, has been a tranformational influence on the entertainment experience from the cinema to home theatre and mobile entertainment. The industry has awarded Dolby Laboratories with 10 Academy Awards and 13 Emmy Awards for its groundbreaking achievements throughout the years. Dr. Dolby himself received a multitude of awards and honours over the years.
Dr. Dolby is survived by his wife, Dagmar, his sons, Tom and David, their spouses, Andrew and Natasha, and four grandchildren.
For more information please visit: http://www.dolby.com/.