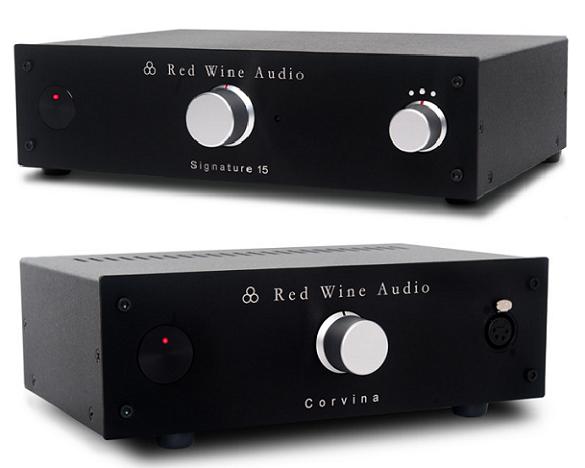 Red Wine Audio, manufacturer of battery-powered purist hi-fi products, has just recently released two new "budget-friendly" components. The new products are designed and built by hand in the USA and incorporate Red Wine Audio features, including: Premium LiFePO4 (LFP) battery technology, Red Wine's battery-powered vacuum tube-stage and the company's automated SMART battery-management system.
Red Wine claims that the new Signature 15 Integrated Amplifier and Corvina Headphone Amplifier offer high-performance at a budget price, with cost reductions primarily coming from a reduced feature list and the utilization of lower cost enclosures.
The Signature 15 Integrated Amplifier is comparable in sonic performance to the company's more expensive Signature 30.2 but is offered at a substantially lower price.  Providing 15wpc/8ohms or 30wps/4 ohms, the integrated will generally provide best results when used with higher-sensitivity speakers.
The Corvina Headphone Amplifier, gives up an integrated DAC and a few other features with the objective of providing high performance without high cost. The Corvina Headphone Amplifier is offered in both a single-ended and balanced output configuration.
Red Wine Audio offers 100% trade-up credit toward select Red Wine Audio components, protecting client investments in their products, as well as a 30-day return policy.
Both new products will begin shipping late October with the following MSRP:
Signature 15 Integrated Amplifier: $1,500 U.S.;

Corvina Headphone Amplifier: $1,000 U.S. (single-ended), $1,500 U.S. (balanced)
Look for more details at: www.redwineaudio.com.