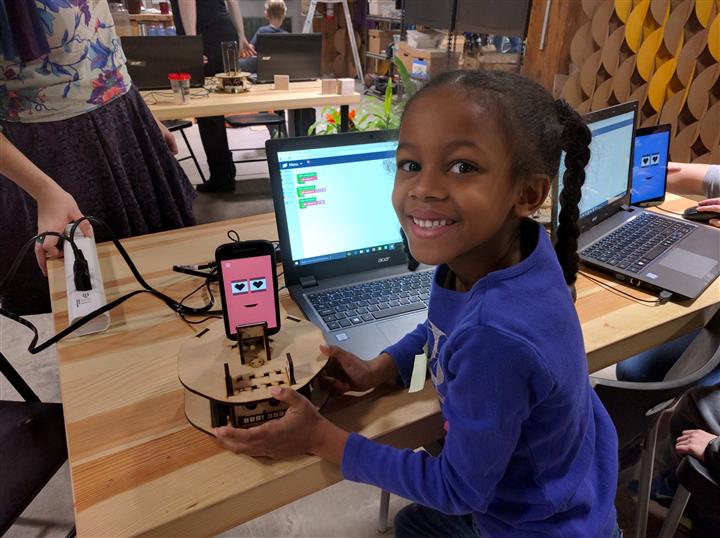 Ready to have some fun with robots at TAVES?  Robot Playtime has just confirmed its participation at the TAVES Consumer Electronics Show.  The company will be one of an expanding number of exhibitors in the robotics and kids education space at this year's show.
Robot Playtime teaches kids (K-12) about robotics and computer science through play, while fostering their imagination and creativity. The company has created Pixel, an app that transforms any mobile device (smartphone or tablet) into a programmable robot allowing anyone to create their own interactive and intelligent robot without any prior knowledge.
Pixel starts off gazing blankly into the world, devoid of intelligence and emotion. It's up to the user to program some personality and life into the robot. Using a drag-and-drop blocked-based programming language, kids learn to program fun interactions, ranging from changing Pixel's emotions to recognizing sounds and objects. With the ability to connect to any open hardware (e.g., LEGO, Arduino, Raspberry Pi), kids are also able to customize and equip their robot with any hardware component (i.e., actuators and sensors). As the user advances, they are exposed to writing real code and learning to advanced concepts, ranging from recognizing faces to obstacle avoidance. These features provide unlimited potential for students to grow in their learning and create a robot that can do almost anything they can imagine.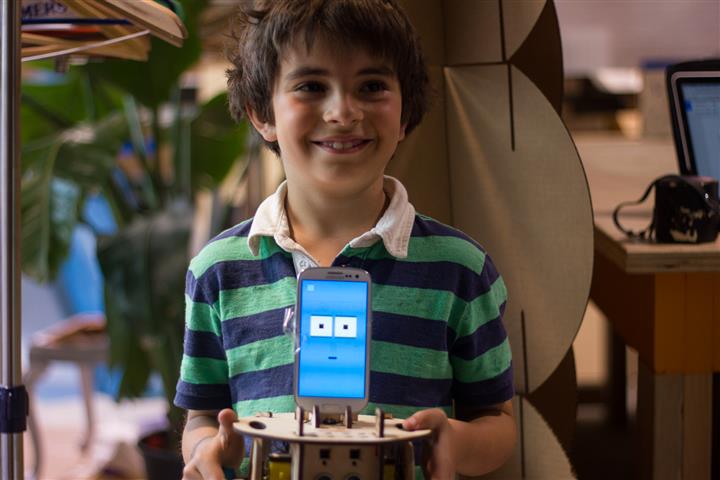 Robot Playtime is working on making Pixel a platform where students can collaborate and share their STEM creations with an online community. Libraries can also be built on top of the company's existing software to connect to multiple open hardware platforms, and existing robot toys on the market.
For more info, jump to www.robotplaytime.com
About the Founders:
Pixel started out as a weekend project between two friends – Alex and Onome. They created Pixel to lower the barrier of entry to robotics, and raise what was achievable for a beginner. When they showed off Pixel to friends and family, everyone asked where they can get their hands on one themselves! After many positive impressions and experiences, they decided to pursue Robot Playtime to empower kids to create with technology. Alex and Onome first met while working on their Masters research project – developing semi-autonomous robots to rescue victims in urban search and rescue missions, at the University of Toronto.