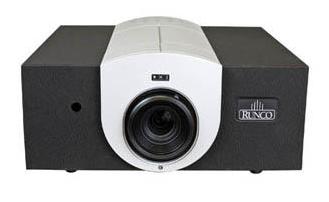 Runco has developed a new "lampless" LED projector, which reportedly uses only 70 percent of the power that traditional DLP projectors use.
The new Runco QuantumColor Q-650i has a number of proprietary features, including SmartColor, ColorContrast, Q-lumens, and InstantOn.
This new product has been developed to perform with screen sizes of 82 inches or less, though Runco has other projectors which can handle much larger screen sizes.
Runco's Q-650i pairs energy-saving LED technology with Runco performance engineering. The Runco QuantumColor Q-650i home theater projector includes Runco's InfiniLight lampless LED illumination technology to provide an infinite light source that creates an energy-efficient projector with a claim of having the widest color gamut ever available in home theater projection. Runco utilizes its Personal Color Equalizer, which allows color adjustment that includes those exactly defined by the cinematographer and the color preferences of each individual viewer for each source. Proprietary Runco Smart Color (RSC) provides a hue compensation curve and gamut mapping that allows for lifelike, accurate flesh tones while increasing color saturation, without sacrificing the purity of other colors.
The Q-650i ships to Runco dealers in late August 2011 with an MSRP of: $9,999 U.S.
Look for more details at: www.runco.com.