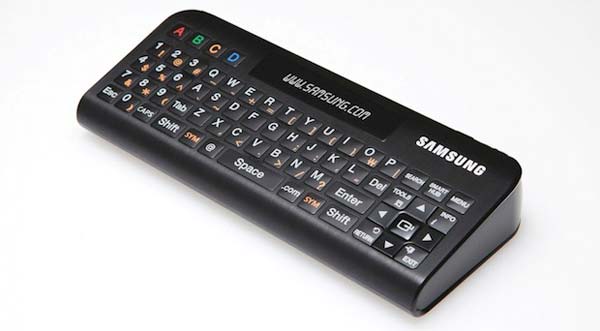 The first steps toward accessing web content on your TV were taken by companies like Samsung and Panasonic with their last year's TV models.  The online content was however very limited and typing in any search terms was cumbersome with the regular TV remote.  But this year some Samsung TVs are expected to offer a full Internet browser – and the surfing experience will be enhanced with its new QWERTY TV remote.
The RMC-QTD1 is a QWERTY TV remote with an LCD screen that puts control and functionality into the hands of the user. The multidirectional QWERTY TV remote connects wirelessly with a Samsung Smart TV and features a full physical QWERTY keyboard. When one side of the remote is being used, Samsung's intuitive features automatically disable the keys on the other side so consumers never need to worry about accidentally hitting any buttons. The QWERTY TV remote is included with every premium model, including the LED D8000 and D7000 Series and Plasma D8000 Series. It is compatible with LED D6300 series and up (sold separately).
The Samsung QWERTY TV Remote will be available in April 2011 for $99.99 US.
For more info, please visit www.samsung.ca.