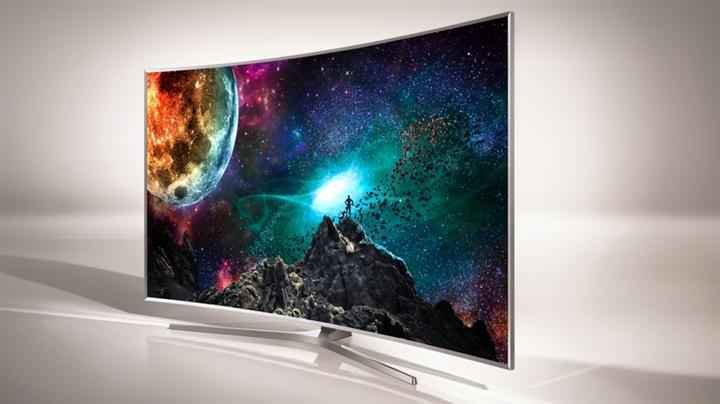 For many years now, the battle between TV manufacturers on the CES show floor used to be waged in screen sizes. But everyone is over that now. After all, most of us can't fit a 100+ inch TV anywhere in our homes.
Instead, Samsung has turned its attention at the 2015 CES to the opposite end of the spectrum, the super tiny Quantum Dot technology, in their new SUHD TV series – which comprises the JS9500, JS9000 and JS8500 models. Samsung's new QD panels are said to be sharper than standard LCD/LED panels, although not quite as crisp as OLED panels. The new series also offers a new featured called high dynamic range (HDR) playback.
So how do these two technologies improve the TV experience? Quantum Dot technology gives the picture a 30 percent boost in colour accuracy and offers 64 times more colour gradation to every pixel, compared to standard LCD/LED TVs. The quantum dots are actually nanocrystals (tiny crystals) applied to the blue LEDs that make up the backlight of these TVs. The crystals emit specific wavelengths of red and green which, combined with the blue LEDs, can achieve brighter images and a wider colour gamut than conventional LED-backlight technology.
The HDR technology allows the new sets to achieve a higher brightness and offers more colour processing power to handle sources mastered with a much wider colour space than today's usual video standards.
The curved-screen JS9500 SUHD model just revealed at CES also uses a 10-bit panel, rather than the 8-bit panels found in previous generations, and offers Octa Core processing rather than Quad Core processing in Samsung's high-end TVs from 2014.
The colour reproduction of this new SUHD TV is simply spectacular – the colours pop off the screen like never before, making for a truly realistic picture. Bright picture parts also benefit from being my punchy and intense.
The challenge is that in order to take advantage of these technologies, the video source must be mastered in HDR and right now only two movies exist – the The Life Of Pi (begin shown at CES) and Ridley Scott's Exodus (currently in movie theatres). Samsung has however partnered up with Disney and Fox to remaster some of their titles in HDR, so some content should become available in 2015. Netflix has also began filming some production in HDR. Sadly thought, a unified HDR standard does not exist (at least not yet) and film studios and TV manufacturers are currently arguing about different approaches.
To top it all off, Samsung's new JS9500 series TV will use a new-all open source operating system from Tizen. In addition to the typical smart TV functionality, Tizen will utilize low-power Bluetooth to sync up to five Samsung devices completely automatically. It will also allow you to push content from your tablet or phone easier than ever before and offer new functionality – such as playing an alarm set on your phone, on your TV screen.
The JS9500 series will also be one of the first non-Sony TVs to offer PlayStation Now, a video gaming streaming / subscription service.
The Samsung JS9500 Curved 4K SUHD series will be available in 2015, in 65, 78 and 88-inch screen sizes. Pricing has not yet been announced.
The JS9000 will also offer a curved screen and pretty much the same technology as the JS9500 (the main exception being the lack of the full-array backlight) and come in 78-, 65-, 55-, and 48-inch sizes.  The JS8500 will offer flat screens, rather than curved, and feature much of the same technology.
Comments are closed.