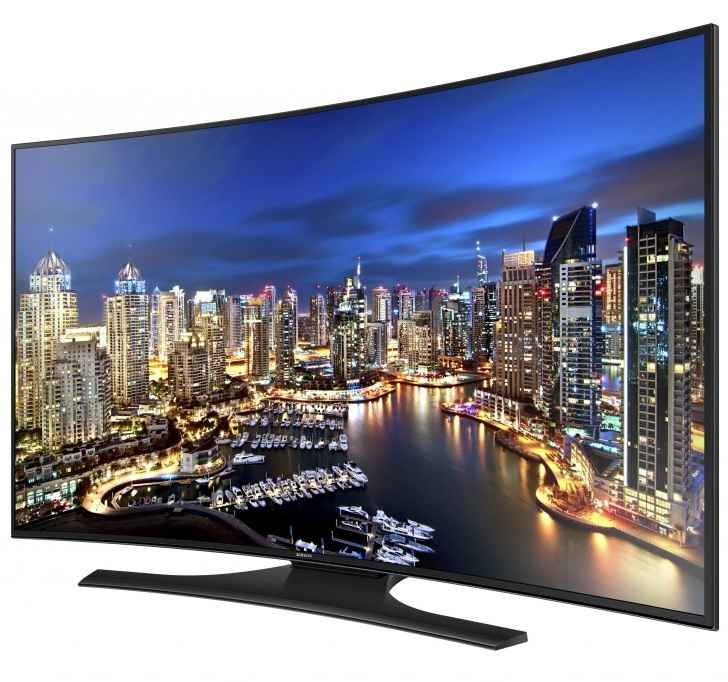 Samsung Electronics has just introduced a new 85" model to the HU8550 Series and two new, Ultra High Definition (UHD) TV series: the HU7250 Curved UHD TV and the HU6950 UHD TV series.
The HU8550 delivers UHD picture quality with Smart TV capabilities, paired with UHD Dimming and Precision Black like the other HU.  This new 85" model join its small siblings that range from 50″ through to 75″. 
Samsung's HU7250 Series Curved UHD TV Models with their curved screen designs provide stunning picture quality and deliver a more immersive entertainment experience.  The curved screen provides a greater level of presence vs. flat screens and a wider field of view that creates a panoramic effect, making the screen seem larger than it actually is.  The curve also allows for a more consistent viewing experience regardless of your viewing position.  The UHD screen can provide up to four times the resolution of Full HD.
With Samsung's proprietary UHD Upscaling, the HU7250 Curved UHD TV seamlessly upconverts SD, HD or Full HD content to near UHD picture quality. The HU7250 Series also features UHD Dimming, which adjusts brightness to deliver deeper blacks and brighter whites, and virtually eliminates image distortion for a crystal clear picture.
With Samsung's Quad Screen Multi-Link feature, consumers can transform their TV into four screens to access live TV, streaming video and the web all at once. The HU7250 UHD TV features Samsung's award winning Smart TV platform with the new 5 panel Smart Hub design powered by a Quad Core processor.
Samsung's HU6950 Series Smart UHD TV Models are a new flat UHD TV series with some of the same technologies found on Samsung's flagship models, such as UHD dimming, UHD Upscaling and a Quad Core Processor, the HU6950 Series offers outstanding performance. The new, easy to navigate 5 panel Smart Hub organizes favorite content and apps in one place.  Web browsing capabilities and its Quad Screen Multi-link feature allows a 4-way split screen.
The new HU8550 model will be available late-June for $9,999.99 U.S.  The HU7250 Curved UHD TV series will be available in August in a 55" model for $2,199.99 U.S. and a 65" for $3,299.99 U.S.  Finally, the HU6950 Smart UHD TV will be available late-June in a 40" model for $999.99 U.S., a 50" model for $1,499.99 U.S. and a 55" model for $1,999.99 U.S..
Whether flat or curved, all of Samsung's UHD TVs support today's standards and their One Connect Box essentially houses the brains of the TV externally, enabling customers to switch out the box with the latest Samsung UHD Evolution Kit (Sold Separately) to stay up to date on the latest UHD standards, as well as get access to the newest technology Samsung offers.
For more information on these or other Samsung products, please visit: www.samsung.com .
Comments are closed.