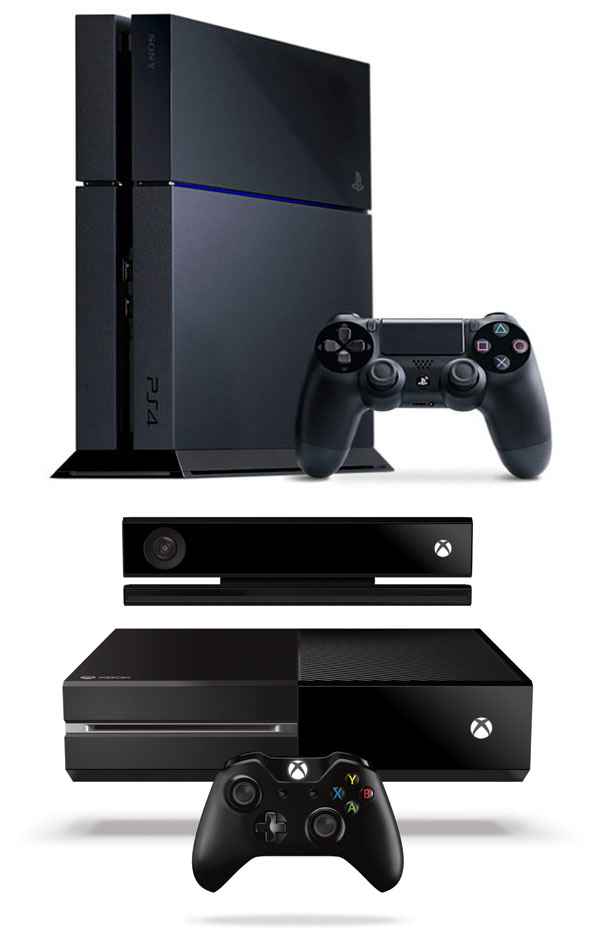 Both Sony and Microsoft recently announced that they will be releasing their next generation video gaming consoles by the end of this year and millions of video gamers around the world are curious to see just how the next generation games are going to look.  Sony's new console will be called the PlayStation 4, while Microsoft is calling its console the Xbox One.  Both consoles aim to be the central hubs for home entertainment rather than just gaming machines, and as you might imagine both offer much faster processors, powerful graphics and innovative new functionality and features.
Sony PlayStation 4
Although Sony was the first out of the gate to announce most of the details of its new system, the company has so far only released images of the PS4 controller and the camera module which attaches to your TV.  Sony is expected to reveal the final details and product pictures at the E3 show on June 10th, which will have taken place by the time you read this.  The PS4 system architecture is centered around a powerful custom chip that contains eight x86-64 cores and a Graphics Processing Unit (GPU) that has been enhanced in a number of ways, principally to allow for easier use of the GPU for general purpose computing.  The GPU contains a unified array of 18 compute units, which collectively generate 1.84 Teraflops of processing power that can freely be applied to graphics, simulation tasks, or some mixture of the two.   The PS4 is outfitted with 8 GB of unified system memory (GDDR5), giving the system 176 GB/second of bandwidth and providing a further boost to graphics performance.
As you might expect the PS4 will offer a number of new features, allowing gamers to interact with their games and friends in new ways.  The PS4 will let gamers share images and videos of their epic gameplay moments on social networking services such as Facebook with a press of a button on the controller – the images/videos upload as the gamer plays.  Gamers will also be able to share their live gameplay in real-time using Ustream, letting friends make live comments.  The PS4 will integrate other devices such as the PlayStation Vita, smart phones and tablets into the gaming experience.  The PS Vita for example, will let gamers seamlessly pull PS4 titles from their living room TVs and play them on the PS Vita's display.  Apple and Android devices on the other hand will let users, for example, see maps on their second screens when playing an adventure game, purchase PS4 games while away from home and download it directly to the console at home, or remotely watch other gamers playing on their devices.  The PS4 promises to be lightning quick at letting you access your games thanks to its "suspend mode" which keeps the system in a low power state while preserving the game session – thus eliminating the time it takes boot the console and load the game as in the past.  Just hit the power button and you'll be right back at playing the game where you left off the last time.  Finally the new console promises that in the future when a gamer sees a title of interest in the PlayStation Store, they'll be able to immediately start playing a portion of the actual game.
Along with the announcement of the new console, Sony revealed a number of PS4 game titles that will be available around launch time.  The major titles will include first-person shooter Destiny from Bungie (the guys who created Halo), Killzone Shadow Fall, Diablo III and a new Final Fantasy.  These games will be joined by creative efforts such as Knack, a game directed by the PlayStation 4?s lead architect, Mark Cerny, Watch Dogs from Ubisoft, and Driveclub, which aims to bring team-based racing to new levels. PS4 owners can also expect exclusives such as InFamous: Second Son and The Witness.'
Update (June 2013): Sony just announced the complete details of its PlayStation 4 at the E3 press conference.  Check out all the details here.
Microsoft Xbox One
Microsoft's Xbox One is an all-in-one gaming and entertainment system designed to deliver a new generation of blockbuster games, television and entertainment.  Rather than taking the teaser approach like Sony, Microsoft revealed the details and photos of its new console all at once.  The Xbox One will offer a Blu-ray disc player for the first time, a completely redesigned 1080p Kinect camera/voice sensor and a new Xbox controller that's refreshed with more than 40 technical and design innovations.  Under the hood, the Xbox One will offer an eight-core x86 processor with more than 5 billion transistors, which will help to make lag and load times a thing of the past.  You'll be able to jump instantly between a game and your entertainment at lightning speed or run a host of apps right alongside your game with no loss in performance.
Thanks to this computing power the next generation games promise to push the boundaries of realism, with the most advanced graphics to date.  Microsoft will also enable owners of the Xbox One to interact with the console in a whole new way.  Owners will be able to control the Xbox One using voice commands.  For example, you'll be able to say  "Xbox On" to launch your personalized Xbox One Home screen, discover what is popular on TV or see friends' latest gaming achievements – all using your voice. The more you interact with Xbox One, the more it gets to know you and learns what you like.  Microsoft would also like you to navigate and watch live TV from your cable or satellite box through your Xbox One, to simplify the operation of your home entertainment.  Using the "Snap" feature you'll be able to jump into a multiplayer battle while watching your favorite movie, talk with friends on Skype while watching live TV, or track your fantasy team on TV as you watch the big game.  Other Xbox One features include Trending which lets you discover entertainment that's popular among your friends, and see what is trending within the Xbox community; and OneGuide which allows you to find your favorite entertainment easily, searching by network or name, all with the sound of your voice.  Xbox One owners will be able to take advantage of the all-new generation of Xbox Live that is more powerful, more personal and more intelligent. Unleashing the power of the cloud makes everything more convenient and accessible, from allowing games to be installed in segments so that gameplay can start quickly to updates downloading in the background. Xbox Live will let you save and store your personalized profile, games and entertainment in the cloud to access them anytime, from any Xbox One console.  A dedicated Game DVR will allow you to capture and accesses your magic moments, all saved to the cloud.  Finally, the Xbox SmartGlass feature will turn your smartphone or tablet into a second screen that can be used to control various play console features, and enable access to additional content to enhance the Xbox One entertainment experience.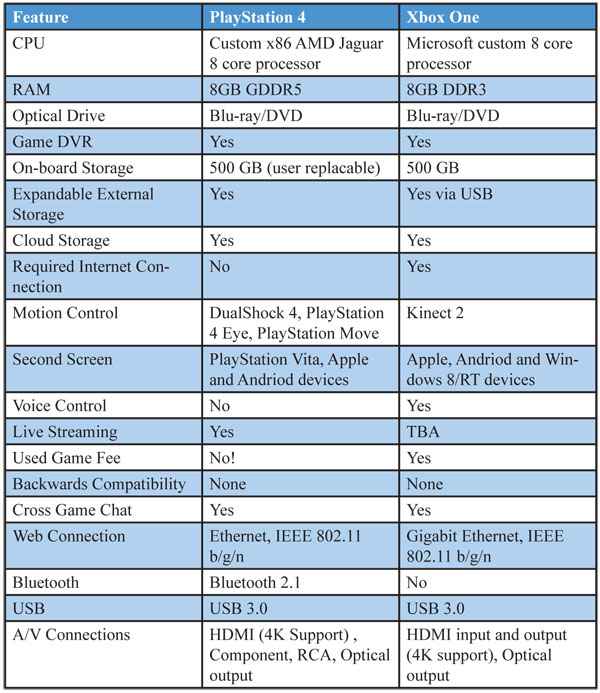 The blockbuster Xbox One gaming titles revealed so far for the new console include Forza Motorsport 5, Call of Duty: Ghosts, Quantum Break, FIFA 14, Madden NFL 25, NBA LIVE 14, and EA SPORTS UFC.  In addition to these games, Microsoft also announced that Steven Spielberg will executive-produce an original "Halo" live-action television series with exclusive interactive Xbox One content.
Features aside, for gaming fans it's all about the games.  What will truly determine the success of both new consoles are their abilities to deliver games with better-than-ever graphics, game physics and an overall immersive experience.