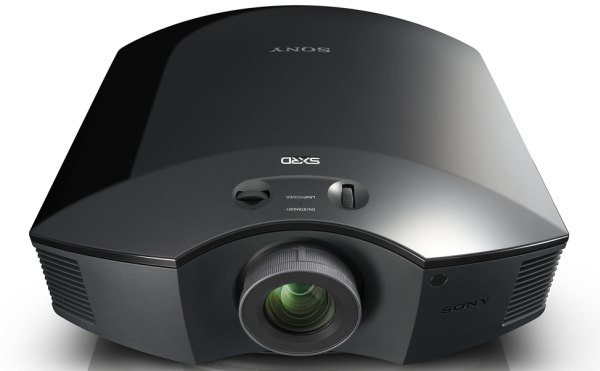 Sony has just announced that it will release the VPL-HW30ES 3D front projector to the North American market, hoping to bring the big screen, 3D experience to a wider audience thanks to the projector's attractive price of $3699 US.
Incorporating Sony's latest panel technology and dynamic lamp control system, fans of movies, sports and gaming have the opportunity to enjoy 2D or 3D entertainment, with stunning images that are nearly three times as bright as Sony's current 3D home projector.
Utilizing Sony's SXRD (Silicon X-tal Reflective Display) technology, the VPL-HW30ES delivers full high definition video including 3D, using high frame rate 240Hz panel drive projection technology. When viewers don the new active shutter 3D glasses (TDG-PJ1 sold separately), the front projector with the 3D transmitter (TMR-PJ1 sold separately) delivers a crisp and bright image on the screen. Sony's new lamp technology enables 3D display that is brighter and also reduces the cross talk that can diminish the clarity of the projected image.
Part of the Sony's ES line, this projector will be available through a network of high-end A/V specialists and custom installers. Also available in a bundle with two pairs of 3D glasses and transmitter, is the VPL-HW30AES.
The VPLHW30ES supports a wide variety of 3D formats including frame packing, side-by-side, and top and bottom. Only Sony products offer support this range, so viewers can enjoy the widest variety of 3D including Blu-ray, broadcast and photography. The projector is also equipped with 2D to 3D conversion function to simulate 3D video and pictures using 2D content. It also features two-way RS232 and an IR input for simple and seamless integration with third party automation systems.
The new projector offers independent 2D/3D picture modes; users can optimize the display based on content being viewed for cinema, sports, gaming or photo viewing. With Sony's SXRD panel and Advanced Iris 3 technologies, the VPL-HW30ES features dynamic contrast to 70,000:1 while delivering 1,300 lumens output. The VPL-HW30ES also supports HDMI1.4a which not only includes 3D support, but also Deep Color and x.v.Color for natural, vivid reproduction of colors. Sony's video processing which includes Motionflow with Dark Frame Insertion and Mosquito and Block Noise reduction and 24p True Cinema capabilities recreates a sharp film-like image.
Sony's new TDG-PJ 1 3D glasses (sold separately) have a matte black finish inside the frames to optimize viewing of projected images and reduce reflections; are lighter (2.1oz vs. 2.8oz); rechargeable; and offer longer viewing times (30 hours continuous watching on a single 30 minutes charge) when compared to the first generation.
The VPL-HW30ES front projector begins shipping in July 2011 for $3699 US. The TDG-PJ1, active shutter 3D glasses, $129.99 and TMR-PJ1, 3D transmitter, $79.99 will also be available at that time.
For more info, please visit www.sony.ca.