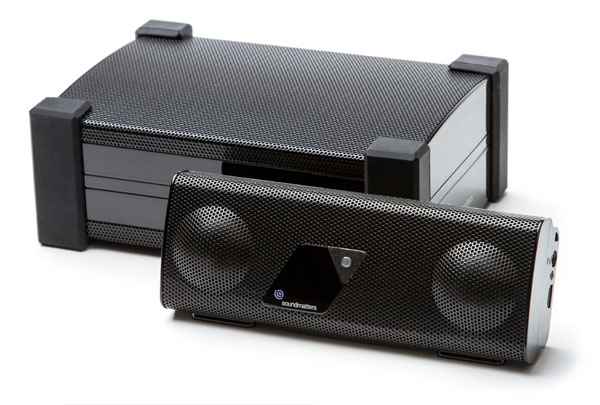 Soundmatters has just announced the foxL DUET, a high-powered compact desktop and travel friendly stereo hi-fi satellite and subwoofer system.  The DUET combines the recently announced foxL aptX portable, pocket-friendly speaker/speakerphone and the palm-sized foxLO powered subwoofer.
Renowned for stretching the laws of physics with their diminutively sized high-performance loudspeakers, the foxL line is the gold standard in portable hi-fi speakers.  With Soundmatters' new DUET bundle, music lovers finally have a full-range desktop stereo hi-fi system with deep bass, all the way down to 38Hz.  If you're headed on a business trip, just detach the subwoofer, pop the foxL portable speaker into your pocket or briefcase, and enjoy great sound anywhere.  Or if you're going on vacation for the week, bring both the travel-sized foxLO subwoofer and foxL along. DUET's flexibility provides the ultimate audio experience anywhere.  Great for tablets, smartphones, laptops and more, the foxL DUET system provides a $50 savings over the components' individual prices.
DUET's foxLO Subwoofer Features
Patented Linear Magnetic Drive woofer with proprietary dual passive radiator system and 30 watts of built-in amplification.
Audio Input with variable Bass Level, Power LED and Full Pass Audio Out.
Vertical or horizontal chassis orientation.
24V1.9A External U.S. Power Supply.
 Dimensions: 2.5h x 4.5w x 6.3d in (63h x 114w x 160d mm).  Weight: 23 oz/651 g.
DUET's foxL aptX Portable Speaker Features
High-resolution fidelity with dual patented Twoofers (tweeters that woof) and patented BassBattery passive woofer.
Analog and Bluetooth connectivity with aptX for virtual CD-quality wireless streaming when used with aptX-equipped source devices.
Built-in mic for wireless hands-free phone conferencing.
Up to 24 hours (wired) battery life, 12 hours (Bluetooth), charges via USB or included international charger.
5V 2A Int'l Power Adapter Kit (US/EU/AU/UK).
Dimensions: 2.2h x 5.6w x 1.4d in. (63h x 114w x 160d mm).  Weight: 9.5 oz/269g.
Priced at $349 US, the DUET will be available February 2013.  For more info please check out www.soundmatters.com