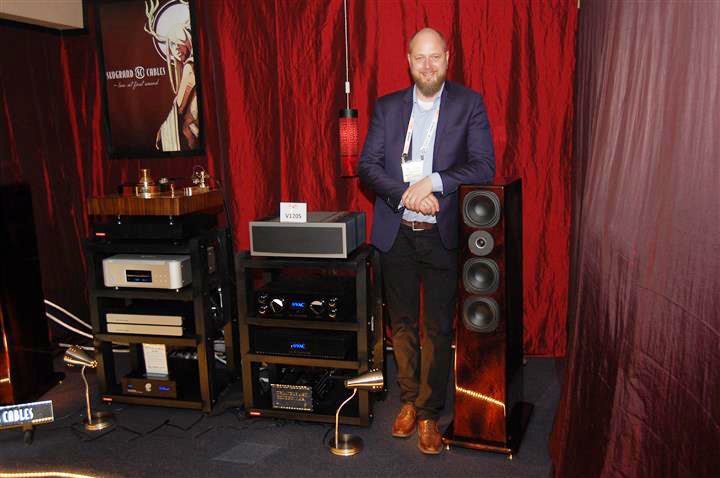 This past Oct. 30th to Nov. 1st, the TAVES Consumer Electronics Show was moved to a new home in Richmond, Ontario and witnessed a dramatic growth in the number of both exhibitors and show attendees. Just as importantly, the show also graduated from being "just another" audio show to a full-blown consumer electronics event thanks to a vast number of technology and innovation exhibits. Senior Editor George de Sa has already covered many of the audio exhibits at the show on the CANADA HiFi website and inside this article, I offer my perspective on some of the standout audio exhibits at this year's show. Be sure to come back later this week and check out Jeremy Phan's take on the technology and innovation portion of the show.
Skogrand Cables
Larger-than-life owner Knut Skogrand showcased the world premiere of the ACA Seraphim Skogrand Edition 3-way floorstanding loudspeaker system (MSRP $58,000 CDN / $45,000 USD). To quote from the brochure:
"The ACA Seraphim Skogrand Edition reference loudspeaker is the first found worthy of using Skogrand SCIW Beethoven internal wiring. This is a 1.00 air Dielectric Ultra Pure Ohno Continuous Cast (UPOCC) solid core wire and it is the only one of its kind in the global market preserving the signal most effectively, completely, and undisturbed."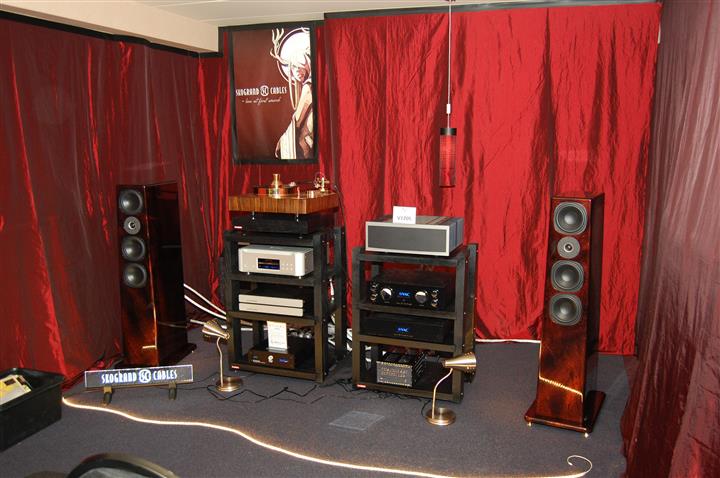 The Skogrand Cables room 2-channel system featured an Esoteric SACD player (MSRP $22,000 USD), a VAC Statement vacuum tube pre-amp (MSRP $46,000 USD), and a Venture V120S solid state power amplifier (MSRP $60,000 USD). Combined with Skogrand's SCI Beethoven interconnects (MSRP $19,000 USD – $25,000 USD per each pair of ICs), Skogrand's SC Beethoven speaker cables (MSRP $25,000 USD per pair), and Skogrand's SCAC Beethoven power cords (MSRP $18,000 USD – $21,000 USD per each AC cord), the Skogrand room had one of the fullest sounds at the entire TAVES 2015 lollapalooza.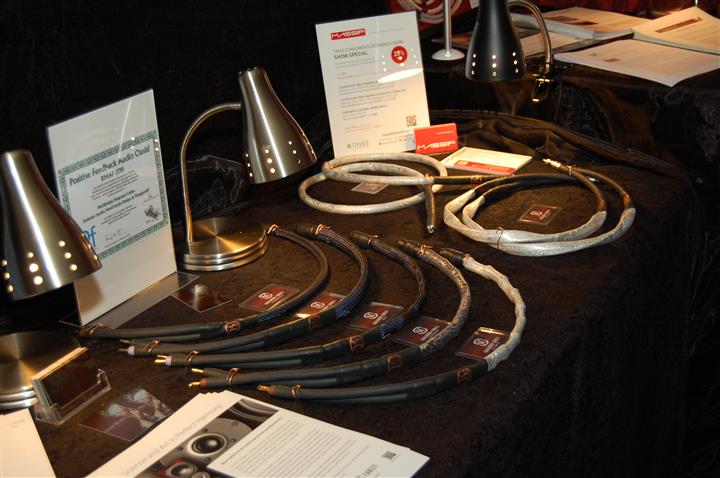 As I wandered the hallways and overheard conversations about the various exhibitors, what they had set-up, and which– in the opinions of the public visiting the show– sounded the best, the one name I kept hearing positive comments about over and over was "the Skogrand room". In what I like to classify as the "cost-no-object" category, Skogrand's 2-channel system delivered (arguably) the best sound at the entire 2015 TAVES.  Look out for a review of the ACA Seraphim Skogrand Edition loudspeakers from Malcolm Gomes in the next several weeks on the CANADA HiFi website.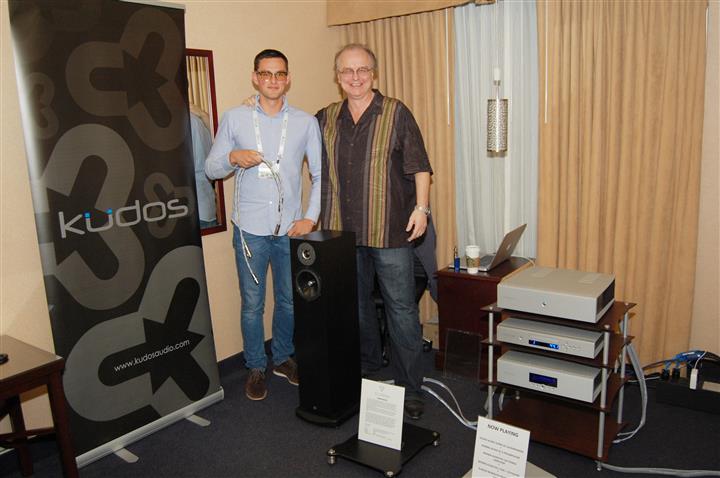 Crown Mountain Imports
Crown Mountain Imports proudly ran a 2-channel system using a pair of Kudos Audio Super 20 loudspeakers (MSRP $10,000 CDN). Combined with a Norma Audio DS-1 one box CD player + DAC (MSRP $6,000 CDN) as the source, a Norma Audio SC-2 solid state pre-amp (MSRP $8,900 CDN), and a Norma Audio PA-150 solid state power amp (MSRP $8,900 CDN), Crown also debuted a complete loom of Albedo's pure silver (Ag) mono-crystal interconnects, speaker cables, and power cords.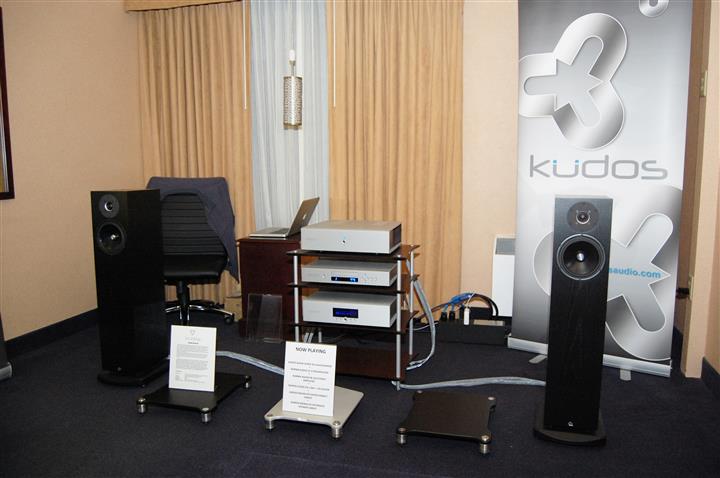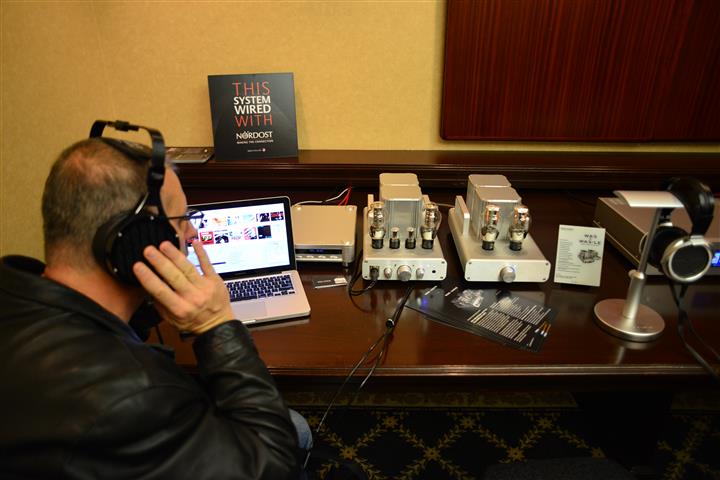 Woo Audio
Woo Audio had a number of their gorgeous vacuum tube headphone amplifiers set-up for TAVES 2015 visitors to audition. Woo's flagship 300B based WA5-LE (MSRP $3,700 USD) features an all tube design with 6SN7 driver tubes, 274B rectifier tubes, and 300B power tubes.
To quote from Woo's website: "The marquee feature of the WA5 / WA5-LE is the user selectable Hi/Lo power, Hi/Lo impedance, and Hi/Lo level output switches located on the front panel. When used in conjunction, a listener can optimize the synergy between amplifier and headphones to achieve the ideal pairing."
I listened to the WA5-LE matched with Audeze LCD-3 headphones (MSRP $1,945 USD) and got goosebumps from the sound I heard.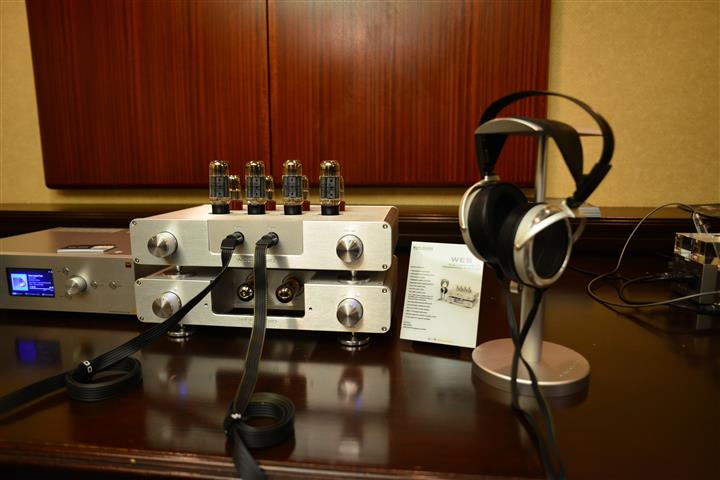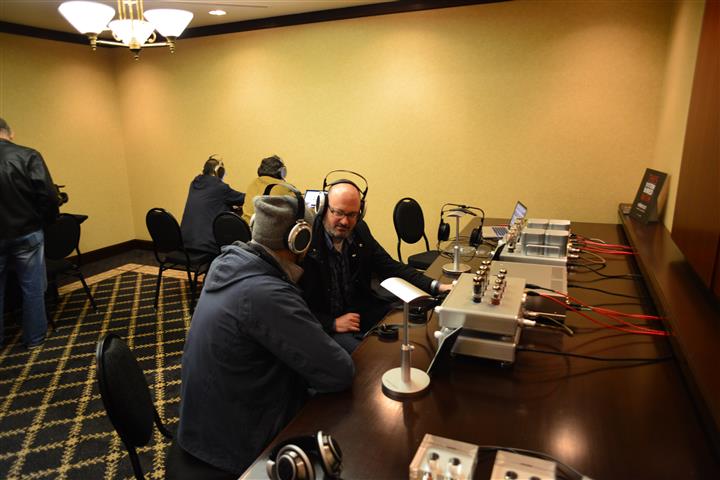 Woo also brought their WA-8 battery powered one-box tube amp + DAC (MSRP $1,800 USD), a WA-22 fully-balanced tube headphone amp (MSRP $2,000 USD), and their WA6-SE tube headphone amp (MSRP $1,200 USD).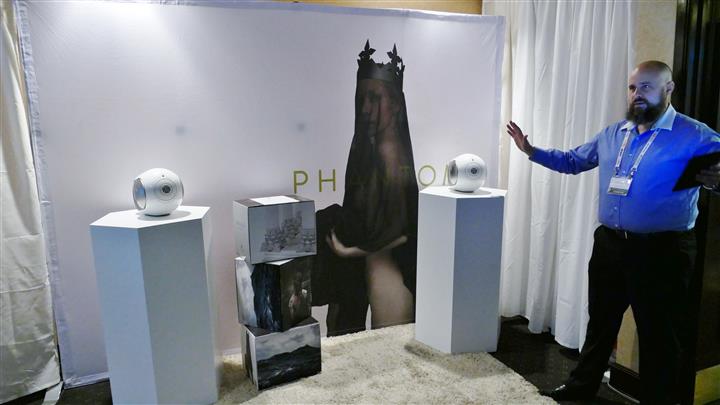 Plurison
For TAVES 2015, Plurison Audio set-up the funky looking Devialet Phantom wireless speaker (MSRP $2,795 CDN per each unit). Plurison had Cambridge Audio's CXN upsampling network player (MSRP $1,399 CDN / $999 USD) and Cambridge's CXA-80 solid state 80w/ch integrated amplifier (MSRP $1,399 CDN / $999 USD) on hand in a static display.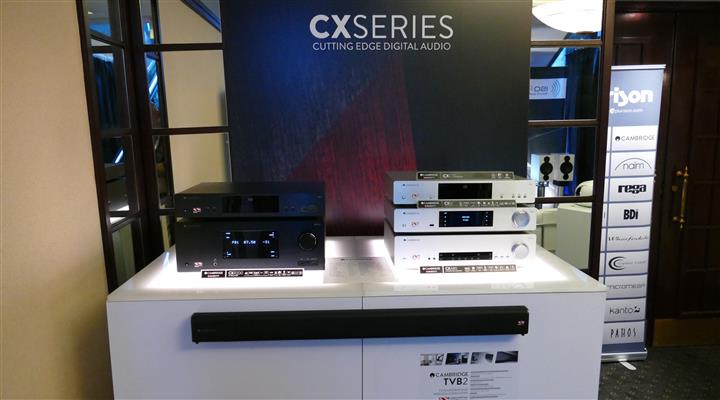 Plurison also brought Naim's MUSO audiophile soundbar (MSRP $1,700 CDN) and Focal's Sopra No. 2 (MSRP $14,000 CDN) floorstanding loudspeakers for show goers to drool over.