If you're in the market for cutting-edge display technology, your senses will be overwhelmed by the visual clarity of this year's headline equipment. In this area, JVC will showcase its latest home theater projectors, while Samsung will make your jaw drop with its 2017 QLED TVs.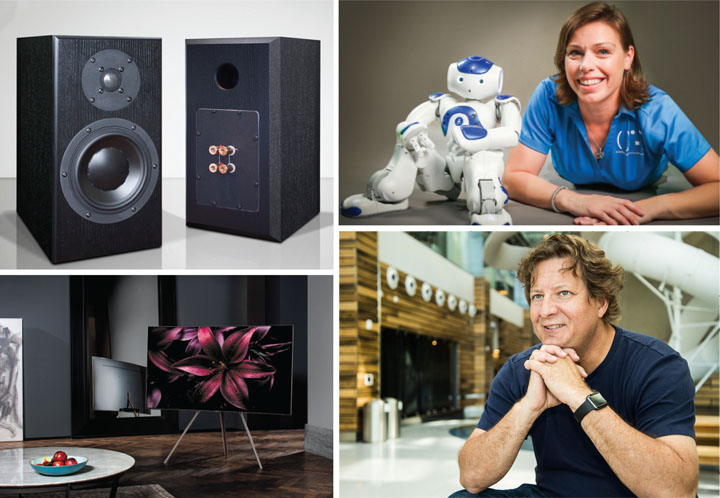 Top left: Product launches from big names like Totem Acoustic offer the inside track on the latest sound innovations. Top right: Nancy Moses of New Life Robotics will be leading a fascinating discussion on how social robots are transforming the lives of children with autism.  Bottom left: Crisp picture, rich, luminous colour and immersive sound — high end display technology continues to enhance the home viewing experience. Stop by the Update TV & Stereo room for a stunning selection of the best products in the market. Bottom right: Internationally renowned broadcaster Alan Cross will be speaking at the Music Technology Meetup, Sunday, October 15th at 1pm.
And if you're creating your own home theatre or listening room, TAVES offers a series of expert seminars to help guide you through the process.
Workshops, the TAVES live stage and Meetups
Try-it-out! Got the DIY bug? TAVES offers a large selection of robotics, 3D printing and coding workshops led by professional educators and engineers for geeks and wanna-be geeks of every age (from 6 to 106!). Experience the thrill of building and programming a drone, a robot or even writing a little code. This year, the show will also host a very neat "Build your own headphones" workshop.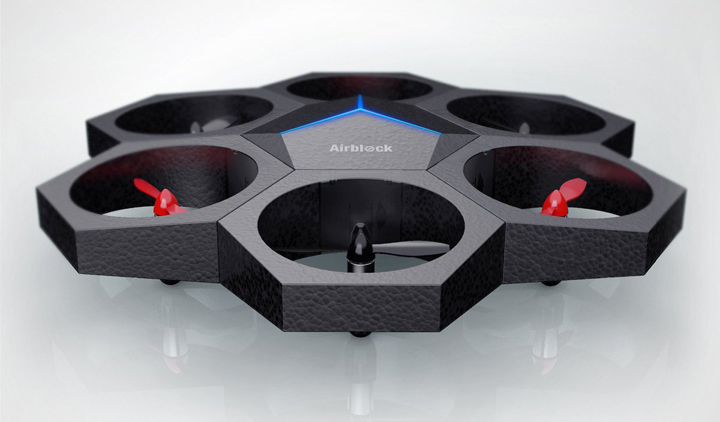 Kids can make their own robots or tech gadget at TAVES, like this modular Airblock drone at one of the Logics Academy workshops.
TAVES Talks Tech: Glimpse the Future
An eclectic mix of entertaining, informative and sometimes provocative speakers, the TAVES Talks Tech [T3] stage brings you the electrifying world of consumer technology. Every year, TAVES welcomes powerful new voices to the Canadian tech conversation: industry leaders, innovators, entrepreneurs and technology experts. T3 2017 will be covering personal robots, autonomous vehicles, artificial intelligence, immersive audio and the mind-blowing world of virtual reality. Watch for twenty2b's Drew Henson, robotics expert Hallie Siegel, Smart Wheel Canada's Kash Mustaq and cardiologist Dr. Ravishankar Polisetty.
Dive a Little Deeper
If you want to dive a little deeper into the conversations and maker-cultures animating the fast-changing technology scene, TAVES has invited some of the most interesting Meetups happening in the GTA.
Robotics: "Get Your Bot On!" and "GTA Robotics" Meetups bring together roboticists, engineers, designers and hobbyists interested in robots, automation, autonomous systems and electronics design.
Artificial Intelligence: Explore the technology — how it works, how it learns — and the social, political, philosophical and ethical questions the hottest field in tech is raising.
Music: Love music? Take a guided tour of how technology has shaped the way we consume, create, and monetize music with the Music Technology Meetup.
JOLT! Art Gallery: A feast for the eyes
Displaying original work by outstanding artists, the ever popular JOLT! Art Gallery features original work from top local artists. Explore some of the most compelling work created by the GTA's vibrant creative community. This year JOLT! will feature wearable and immersive works, where art and craft meet technology.
Three tech-soaked days in Toronto. There's nothing else like it anywhere.
The TAVES Consumer Electronic Show runs between October 13th and 15th at the Toronto Congress Centre. Tickets are on sale now at www.taveshow.com.