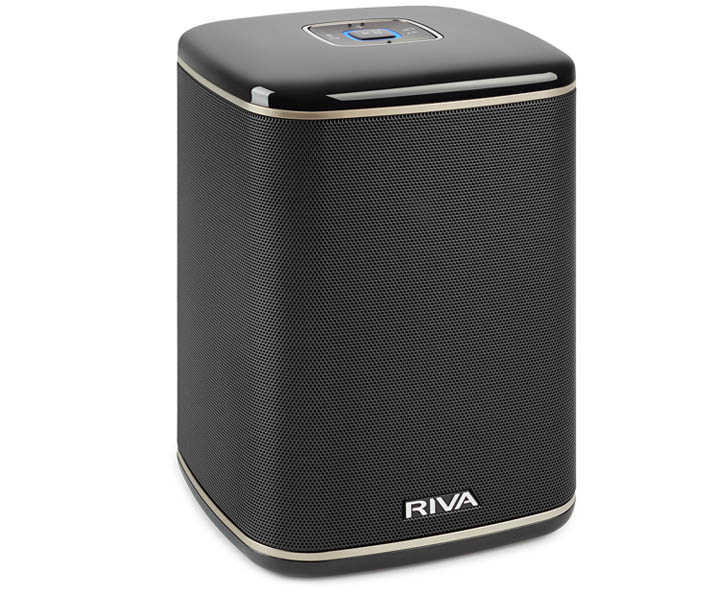 RIVA Audio has just announced its brand new RIVA WAND (Wireless Audio Network Design) Series, a customizable and easy-to-use multi-room / wireless audio system.  The components in this series are designed to deliver high-fidelity audio to every room or outdoor location with the flexibility to play from any networked or local source. RIVA's WAND Series features the compact ARENA speakers, as well as the tabletop FESTIVAL speaker. Utilizing RIVA's patented Trillium technology and unique audio design, the WAND series is perfect for music enthusiasts who demand an audio experience that's as close to live as it gets. Users can enjoy more freedom thanks to a multitude of connectivity options including WI-FI, Bluetooth, AirPlay and DLNA and can stream seemingly unlimited audio content with Chromecast built-in and Spotify Connect. Last but not least, WAND's integrated Away Mode, splash resistance and optional battery pack give you the freedom to listen to your music anywhere; no Wi-Fi required.
The WAND Series proves easy to use, thanks to the inclusion of Chromecast built-in and integration with the Google Home app for a quick and easy setup. Once connected, simply pull up your music library or open a favorite streaming service to start listening immediately. Use the Google Home app to create zones and stream different music throughout the home or business. The RIVA WAND app offers advanced features including custom listening modes and playback from local music sources such as USB, AUX and optical inputs.
The WAND Series is designed to play audio as honest and authentic to the original recording as possible. This starts with RIVA's patented audio technology, Trillium that helps recreate the live audio experience by using three discrete channels to create stereophonic sound much larger than the actual speaker size. Trillium enlarges the audio image while allowing the signal power of the audio to be reproduced without perceptible compression. Superior sound quality continues with custom-built ADX drivers to help WAND products produce truly immersive sound with deep, powerful bass. The ARENA and FESTIVAL speakers are Hi-Res Audio compatible as well, playing music files up to 24-bit/192kHz resolutions. Audio Codecs supported include: MP3, ALAC, APE, FLAC, FLAC HD, HLS, WMA Streaming, RTSP and PCM/WAV.
Unlike most wireless speakers, WAND offers multiple connectivity options, from a single direct connection to a whole-environment wireless networked audio system that can simultaneously stream to up to 30 devices without acoustic latency. Users can listen to high-resolution music, networked digital music files, podcasts, YouTube channels, or music services like Spotify and Pandora through multiple connectivity options including Chromecast built-in, Spotify Connect, Wi-Fi, AirPlay, DLNA, and Bluetooth. RIVA's WAND series Wi-Fi is dual band, supporting both 2.4GHz and 5GHz networks for greater robustness and reliability against interference.
All this flexibility is paired with immense freedom. The ARENA and FESTIVAL speakers' Away Mode offers the freedom to create an ad hoc network when no Wi-Fi is available, for example. With an optional 20+ hour battery pack, splash-resistant exterior and charge out for your phone or tablet, one can take the ARENA to the lake, beach or pool and listen to their favorite music without restrictions.
The ARENA will sell for $249 and FESTIVAL for $499. The ARENA battery pack will be available in black or white and will sell for $99.